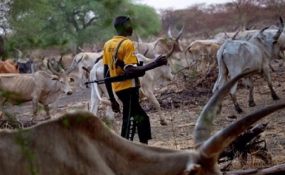 Photo: Daily Trust
By Kabiru R. Anwar
Yola — The Adamawa State chapter of the Christian Association of Nigeria (CAN) has asked the Federal Government to control influx of foreign herders.
Briefing journalists in Yola yesterday, the association's chairman, Rev Stephen Dami Mamza. said there was need to tighten security around the borders.
Manza called on the Muhammadu Buhari administration to take necessary steps to protect lives and properties of Nigerians, and urged the Adamawa State government to prevent its officials from remarks that could injure relative peace in the state.
Mamza also called on government to fish out those behind burning of four churches in Sagal community in Maiha local government area of the state and bring them to book
"CAN wishes to state in unequivocal terms, that violent elements are easily emboldened and fueled by unguarded statements and utterances.We call on government to work around the Justice Adamu Hobong (Rtd) administrative committee of inquiry set up to unravel the immediate and remote courses of farmers/herdsmen crisis in the state. We equally call for implementation of the previous committees reports by the state government," the CAN chairman said.