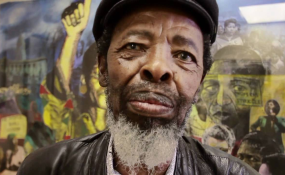 Photo: NationalBookWeek/YouTube
National Poet Laureate Professor Keorapetse "Bra Willie" Kgositsile will forever be remembered as a revered literary genius, said those who attended his official state memorial service at a packed Johannesburg City Hall on Thursday.
Although a melancholic mood hovered in the hall, the jovial music and warm poetic tributes left many fondly reminiscent of happier times, with women clad in ANC regalia bursting into song during intervals.
Colleague and friend Sebiletso Mokone-Matabane told mourners that Kgositsile's home in New York was always full of writers, adding that he was always educating people and always eager to engage them.
Mokone-Matabane said she would miss his sense of humour, love of people and his eagerness to learn and share.
Overcome by emotion, friends and family comforted each other as they shed tears.
A slideshow showing a montage of images of Kgositsile's life at different ages with various people was displayed on a screen on stage.
'A fountain of sage advice'
Described as a clear thinker, Bra Willie, as he was affectionately known, had an illustrious career as a poet and writer. Not to be limited, he branched out into politics and also established a noteworthy career as a creative writing lecturer.
Many emphasised Bra Willie's honesty, willingness to teach and learn, and ability to hold leaders to truth.
Speaking on behalf of the ANC, regional chairperson Parks Tau said the professor was an elder "who was a fountain of sage advice during apartheid and in the democratic dispensation", a man who contributed selflessly to the liberation struggle, he said.
"We will miss his counsel in matters of government and industry policy concerning the fields of the creative arts. We will miss his baobab wit in cutting to size those who have forgotten what it means to be a public representative," Tau said.
Tau said Kgositsile's poetry was informed by politics and vice versa.
Kgositsile was one of the founding members of the ANC's department of education and its department of arts and culture in the 70s and 80s.
'One of a kind'
He became a social and cultural activist while working for an anti-apartheid newspaper edited by struggle activist Ruth First called New Age, before spending 30 years in exile in countries including Kenya, Tanzania, Botswana and the United States. He returned to South Africa in 1990 after the unbanning of political parties by the apartheid regime.
"I will miss him for his strength of mind, infectious laughter, and smile. He truly was one of a kind. Even after all those years in exile, his Setswana was still fluent," said Mokone-Matabane.
Professor Tshilidzi Marwala, vice-chancellor of the University of Johannesburg, announced at the memorial that a hall at the institution would be named in Kgositsile's honour.
Speaker of the National Assembly Baleka Mbete was in attendance, along with former intelligence minister Ronnie Kasrils, poet Lebo Mashile, actor Sello Maake Ka-Ncube, and writer Mandla Langa, among others.The 79-year-old died at Milpark Hospital in Johannesburg on Wednesday, January 3, after a short illness. He was born on September 19, 1938.
He will be laid to rest on Tuesday, January 16, at Marks Park in Emmarentia in Johannesburg at 09:00.
He is survived by his wife, seven children and several grandchildren.
Source: News24