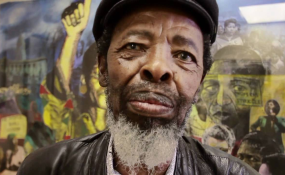 Photo: NationalBookWeek/YouTube
analysis
It could never be said that Prof Keorapetse "Bra Willie" Kgositsile was an ivory tower intellectual. To him, being designated as a public intellectual meant that his poetry was informed by politics; and politics was eventually influenced by his poetry. By PARKS TAU.
We are gathered here to mourn the untimely passing of South Africa's national poet laureate, Professor Keorapetse William Kgositsile. This platform also allows us the opportunity to celebrate the life and legacy of the recipient of the National Order of Ikhamanga in Silver. One is acutely aware that as most of us celebrated the festive season, you as the family and loved ones had to endure the reality of his illness and hospitalisation.
Ba ga losika lwaga Kgositsile, jaaka bagarona ba eletsa, fifing go tshwaranwa ka dikobo. Mo motsing o, a re kitlaneng re fenye
We pay respectful homage to an elder who was a fountain of sagely advice during apartheid and in the democratic dispensation. We honour an exemplary stalwart who was selfless in his countless contributions and tireless dedication to our people's struggles for a better life.
His passing is not only a loss to his family and friends, but it is a grief equally...