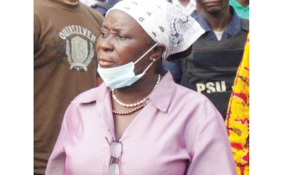 Photo: Liberian Observer
By Toweh Alphonso
The Director General of the General Services Agency (GSA) of Liberia, Mary Broh has shed light on ongoing seizure of government vehicles, while rejecting public insinuations that she is going on the rampage disgracing government officials by taking their vehicles.
Speaking on a local station Wednesday, Broh clarified that the parking of government's vehicles for the next government was a mandate that came since December 29, 2017.
"This particular mandate came December 29 and laid off for a while and I saw a lot of people with their cars in the streets," she said.
The pleasurable attitude of government employees using state owned vehicles has now ended based on the mandate of the Liberian leader to take possession of all government owned vehicles.
This process which is being headed by the GSA team of special taskforce is said to be facing some challenges as some of those in possession of government vehicles are putting on resistance to hand over assigned vehicles.
This compels many government officials who turned over their vehicles to the taskforce to walk or ride taxis to their respective locations, while those who resisting the process have been chased by police.
The GSA with the support of the police is ensuring that all those in possession of government vehicles comply with the mandate to turn over all vehicles.
The GSA has since said government will not relent in ensuring that all of its vehicles are packed and used for the official turning over program and also be used by the incoming government.
Back in 2016, GSA Director Broh told the media that empirical data available to the GSA showed that the use of government vehicles and other mobile equipment is completely out of control.
And Madam Broh said their support cost was significantly more than the benefit received by the Government of Liberia.