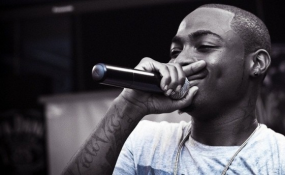 Photo: Channel O
By Chinedu Eze
About 17 check-in luggage of the popular Nigerian music artist, David Adeleke, popularly known as Davido, have been impounded at the Murtala Muhammed International Airport (MMIA), Lagos, by security operatives.
Informed source at the airport said the security operatives decided to impound the luggage following alleged attacks on Aviation Security (AVSEC), Nigeria Customs Service (NCS) and Checkport personnel by Davido's aides when he arrived from a trip aboard Emirates Airlines on Thursday evening.
A source close to the terminal told newsmen that misunderstanding began when Checkport staff at the baggage reclaim area attempted to check the tags on the check-in luggage of Davido to confirm if it corresponded with the reclaimed luggage.
The enquiry did not go down well with one of the aides of Davido who refused to tender the tags and resorted to abusive words against the staff.
According to the source, after few minutes of exchange of words, the aide allegedly punched the Checkport staff in the face while another Customs personnel close to the scene of the incident allegedly did not escape his vicious attacks.
The attacks on personnel led to the reinforcement of security personnel who bundled him to "Tango City" within the terminal.
Tango City is place where unruly passengers and touts within the airport are taken to by security agencies for scrutiny and possible arrest.
However, reports indicated that at the Tango City, rather than behave well, the aide continued his attack on two AVSEC personnel, one of them a lady who was writing the report and another Customs official whom the aide allegedly attacked and cut his wrist in the process.
It was at this point that the attention of Davido who was already outside the terminal awaiting the collection of his luggage from his aide was called to the incident.
It was gathered that when Daivo arrived the scene, he attempted to ensure the release of the aide, which was rebuffed by the security agencies who insisted on taking the detained aide to Criminal Investigation Department (CID) at the airport.
As at Friday, the 17 seized luggage of Davido were still at the airport while efforts were being made to transfer the unruly aide to the CID.
The source said, "Davido had arrived Lagos airport as usual with about 17 luggage in all. The rule is that whenever you arrive, you are expected to release your tags to the Checkport staff for confirmation and verification, but rather than comply with the simple rule, one of his aides insisted he won't allow them to check the tags.
"But, unfortunately, this aide refused to be checked and rather than obey the simple civil aviation rule, he resorted to attacks on everybody. No fewer than four officials were beaten by the person in question with at least two of them soaked in blood."
When contacted the Federal Airports Authority of Nigeria (FAAN) acknowledged the incident but said it was investigating what actually happened.