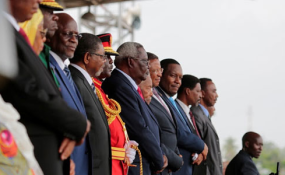 Photo: The Citizen Tanzania
By Issa Yussuf
ZANZIBAR Revolution Day celebrations culminated yesterday, with a huge gathering at Amani Stadium where President Ali Mohamed Shein urged citizens to maintain unity and peace, which enabled the Islands gain admirable achievements in the past 54 years of independence.
In a live broadcast speech, Dr Shein said that the country needed to remain peaceful and maintain political stability to meet its development goals, as he praised President John Magufuli for leading the way in combatting corruption and promoting accountability in public institutions.
Braving the relatively chilly weather in the fully packed Amani Stadium, the enthusiastic audience heard Dr Shein stressing on the need to strengthen existing union between the Island and Mainland, through collaboration in non-union matters and that war against corruption, drugs and protection of national wealth must be supported by 'wananchi'.
Dr Shein prayed for the country's revolution/ independence heroes led by the late Amani Abeid Karume, as he announced that starting from July, this year, the free education policy, previously implemented at primary education level, will be extended to secondary schools. "Free education will from July 2018 include secondary schools.
Our economic growth is enabling usto cater for our citizens including improving social services," Dr Shein said as the audience applauded! The Isles leader said revenue collection increased to 548.571bn/- last year up from 487.474bn/- in 2016, equivalent to 12.5 per cent rise as he commended the Tanzania Revenue Authority (TRA) and Zanzibar Revenue Board (ZRB) for good performance.
He said the national income, basing on current prices, grew from 2,308bn/- in 2015 to 2,628bn/- in 2016 then to 2,827bn/- last year.
The workable economic transformation since 2011/2012 has resulted to narrow down budget dependence from 30.2 per cent to 7.3 per cent in 2017/2018. This has been a big achievement," he said.
President Shein said the economy has grown by 7.0 per cent (in 2017) up from 6.8 per cent in 2016, while the real Per Capita Income has reached 1.8m/- last year, up from 1.6m/- in 2015 along with inflation dropping to 5.6 per cent from 6.7 in the previous year.
"Our aim is to further improve the economy as the best way to fight poverty and remain on track towards becoming middle-income country in the next coming few years," said Dr Shein.
Highlighting investment projects, Dr Shein said by September, 25 projects valued at 276.84 US dollars were approved last year with anticipation of creating at least more than 915 jobs.
Dr Shein pointed out that mega investment projects include construction of houses in Fumba Village where 170 modern residential houses were erected at 'Fumba Satellite City' while 60 new houses were built for 'Fumba Town Development', along with a house project by 'Zanzibar Social Security Fund (ZSSF)' at Mbweni.
The Zanzibar President also said that the projects being implemented under Tanzania Social Action Fund (TASAF III) has improved livelihood for 32,478 households who benefited from 4.45bn/-. "Our development is also linked to good performance in tourism following 433,116 tourists visiting Zanzibar, last year, up from 379,242 in 2016.
This moves us closer to attain 500,000 tourists target even before 2020," Dr Shein said in his speech after receiving 21 gun salute, shortly after entering the Stadium in an open military truck while waving to the audience.
He also said that trade has been good with exports valued at 145.76bn/- last year up from 94.94bn/- in 2016, while goods worth 211.42bn/- were imported compared to 167.09bn- in 2016.
Exports to Tanzania Mainland was valued at 32.32bn/-, while imports was 184.84bn/- between January and December, 2017.
Economic stability is also attributed to good cloves harvest this year and according to Dr Shein, 8,182.04 tonnes of cloves valued at 114.17bn/- was bought from farmers by 5th January, this year and that the government has already sold 5,881bn/- fetching 103.49bn/-.
"Zanzibar at 54, we celebrate many achievements including improved provision of education with no discrimination or racism, having more university colleges, more vocational training schools and improving health service provision.
We now have 12 hospitals from five and 158 health centres from 36," he added.