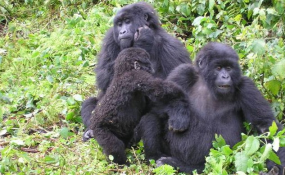 Photo: News of Rwanda
By Susan Muumbi
The Rwanda Development Board on Wednesday received 27.8 hectares from the African Wildlife Fund (AWF) to be added to the 16,000-hectare Volcanoes National Park.
Home of the critically endangered mountain gorilla, the park had decreased by 54 per cent since its establishment in 1925.
The land directly adjacent to the Volcanoes National Park was purchased by AWF last year reportedly from Serena Hotels, with the aim of protecting mountain gorillas and boosting wildlife conservation.
The park is home to mountain gorillas, golden monkeys and other wildlife. Rwanda accounts for 62 per cent of the critically endangered mountain gorilla population, which stands at below 900 individuals.
"If mountain gorillas are going to survive in the long term, this park must be strategically protected, and we are committed to supporting Rwanda in conserving these endangered species," said AWF president Kaddu Sebunya at the handover ceremony in Kinigi, Northern Province.
Mountain gorilla numbers in the park increased from 285 in 1978 to 480 in 2010. Between 2003 and 2010, gorilla numbers went up by 26.3 per cent.
"The increase in the gorilla population has led to a crowded habitat. This donation is a major step in the consolidation of conservation gains," said RDB chief executive Clare Akamanzi.
The donation is a major step in the consolidation of conservation gains for the benefit of communities and future generations. Over the past nine years, revenues from mountain gorilla conservation and the resulting tourism has brought $107 million to the national coffers.
From 2006 to 2017, over 298,000 tourists have visited the Volcanoes National Park, said RDB. Some 29,000 tourists visited the park every year on average between 2011 and 2016.
"Through proactive government policies, community involvement and open governance, Rwanda is demonstrating that development and conservation are not mutually exclusive. Such a win-win approach to conservation suggests that there is nothing inevitable about conservation challenges in Africa today," Mr Kaddu said.