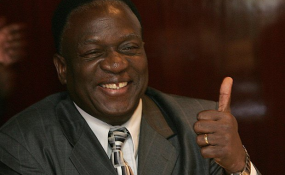 Photo: The Herald
By Staff Reporter
Zimbabwe is starring down the barrel with bleak economic prospects unless President Emmerson Mnangagwa's administration bites the bullet, EU ambassador to Harare, Philippe van Damme, has said.
The EU envoy told journalists at a breakfast meeting, Friday, that a drastic policy shift could result in a quick turnaround for the country's fortunes.
"The International Monetary Fund forecast 2.5% growth while the World Bank projected 0.9% on the assumption of a good agricultural season and steady commodity prices.
"However the season does not seem to be as good as we expected, so with unchanged policies the forecast can be the upper limits of what to expect," van Damme said. "As things stand the future looks pretty bleak but prospects for better things are there".
The EU representative, however, said government has been making the right noises that now needed to be implemented.
"It's extremely important that the new dispensation starts delivering on its commitments. We have heard President Mnangagwa and several of his ministers speak on indigenisation and the land issue.
"These are critically important elements of the reform agenda, that will improve the investment climate," said van Damme.
He added that the quicker the government implemented its' commitments the faster a turnaround of the economy can be achieved.
"The prospects of a quick turnaround are there only if the government expeditiously moves to implement these critical policy changes as indicated".
The EU ambassador said Mnangagwa's administration also needed to begin negotiations with international multi-lateral institutions.
"This is important so that the government can probably begin to access new funding before the end of the year," he said adding the new government has indicated it wants to do more than what former President Robert Mugabe's administration had promised under the Lima negotiations.