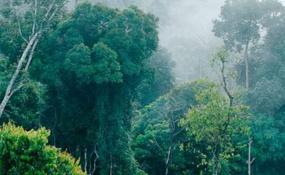 Photo: The Ethiopian Herald
By Genet Fekade
ADDIS ABABA -- Ethiopia has planned ambitious programs of forest landscape restoration to resuscitate more than 20 million hectares of degraded forest landscapes within the next 20 years, The Ministry of Environment, Forest and Climate Change disclosed.
In an exclusive interview with The Ethiopian Herald, Dr. Yitebitu Moges, Manager for REDD+ program under the Ministry, said that the forest coverage of the country will leap to 20 percent by 2030 from its three percent status it was in two decades ago.
A plan is set to develop seven million hectares of forestland by the end of the strategic year, as there is a conducive environment to achieve the target.
Dr. Yitebitu Moges also said that the nation suffers the dwindling of about 92 thousand hectares of forest covered land every year. To curb this problem, the Ministry has to engage itself aggressively in the development of forest lands, integrating things with the green development strategy.
"Ethiopia's mountains are suitable for afforestation, and it is optimistic to achieve the plan by 2030 if the government could mobilize the society to the same goal," he said.According to Dr. Yitebitu, the nation's forest coverage is attributable to highland forests such as Zigiba and Tsid which are available in Elubabor, Welega, Kefa, Jimma and Bale areas. But this fifty percent includes the lowland forests.
Dr. Yitebitu, the REDD+ is working to prevent climate change related hazards, and to save forests to make sure that the community too would benefit from participatory forest management.
The program is going well on the right track particularly in protecting the existing forest coverage in Tigiray and Amhara, through covering the mountains with modern and new forests.
Since the beginning of the Ethiopian Millennium, there are millions of trees are planted, but it is far to achieve the required result due to poor follow up and support, he added.