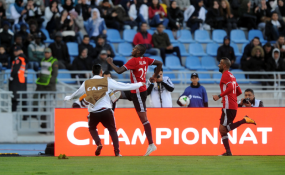 Photo: CAF
A first half brace from Saleh Taher ensured Libya handed a baptism of fire to debutants Equatorial Guinea, beating them 3-0 in their Group C opener on Monday in Tangiers.
Substitute Zakaria Alharash put the icing on the cake with the third in the dying embers to cap a perfect start for the 2014 champions.
The Mediterranean Knight started on a high note as the Equatoguineans struggled in search of their feet in the opening minutes.
Mohamed Aleyat, who had a say in all three goals was a mouthful for the backline of Nzalang Nacional with his surging runs upfront.
Against the run of play, Aleyat's cross was met by Taher who poked home for the opener on 11 minutes.
Six minutes later, the same partnership gave birth to the second. Aleyat again laid a cross which met the head of Taher, and beat Equatorial Guinea goalkeeper Miguel Eyama for the second time.
The second half was no different, however the Equatoguineans lifted up their game but rarely tested Libyan goalie Mohamed Nashnush.
With three minutes remaining, a long pass from Abdulrahman Khalifa found Aleyat, who dribbled his marker and shot through the legs of Eyama to Alharash to tap home and seal victory.
Libya assumes top spot of Group C temporarily with Nigeria due to face Rwanda later at the same venue.
Total Man of the Match: Saleh Taher
Reactions
Omar El Maryami (Head Coach, Libya)
We started by pressing the opponent because we had no information about them. We preferred to attack. This is a positive result for us. At half-time, I asked the players to keep pressing the opponent to add more goals, but at some point in the game, I found that the players underestimated the opponent. We must continue playing the same way from the beginning to the end. On the physical side, we managed our efforts despite the lack of competition.
Rodolfo Bodipo (Head Coach, Equatorial Guinea)
We knew we were going to face a difficult task. I can say that the first quarter of an hour was difficult. We have a young team that lacks experience. It was necessary to allow Libya come at us during the first minutes. We conceded the first goal that affected our plans. Libya is a very good team and have prepared well. The players gave a good account of themselves. We will continue to work and we will take the remaining two games seriously to achieve good results.