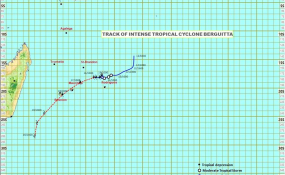 Photo: Mauritius Weather Update
Fourth cyclone bulletin for Mauritius issued at 1010 hours on Tuesday 16 January 2018.
At 1000 hours, intense tropical cyclone Berguitta was centered at about 450 km to the east north east of Mauitius, that is, in latitude 18.1 degrees south and longitude 61.5 degrees east. It continues to move in a general west southwesterly track at about 10 km/h. On this trajectory intense tropical cyclone Berguitta continues to approach Mauritius and represents a direct threat to the island.
Therefore, a cyclone warning class II remains in force in Mauritius.
The public in Mauritius is advised to maintain all preliminary precautions.
Weather in Mauritius will be cloudy with passing showers. The showers will be more frequent,moderate to heavy at times together with thunderstorms, as from this afternoon.
Wind will blow from the south east at about 45 km/h in the mean, strengthening
gradually. The gusts may reach 110 km/h tonight.
Sea will be very rough with swells. It is advised not to venture at sea.
The next bulletin will be issued at around 1610 hours.