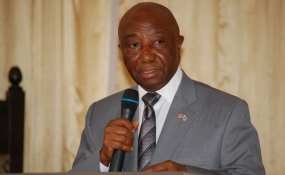 Photo: Joseph Boakai
By Necus M. Andrews
Outgoing Vice President of Liberia and President of the Liberian Senate, Joseph N. Boakai has bided farewell to members of the Liberian Senate he presided over for the last twelve years.
In his farewell speech Monday at the opening of the 54th Legislature, the Vice President told the senators that he did not absolutely have the intention of fading away into the sunset.
"I intend to embrace my new role as an elder citizen with all the vigor and exuberance of a seasoned politician. This country, as I have said on numerous occasions, is all that we have," he said.
He reminded the senators that they have the responsibility to make Liberia safe, comfortable, prosperous, with all the trimmings of a peaceful modern society.
The Vice President cautioned the senators to pay special tribute to the Liberians for their resolved and determination to remain firmly on the course of peace and democracy.
Vice President Boakai: "We must now put all of these behind us and together move Liberia forward. I thank God that in the end, we are still one nation, and one people."
The Vice President said "our people will be the ultimate judge of our stewardship, but where we faltered, we humbly plead for understanding, adding these are the qualities that they must use to reconcile the nation and respond to competing demands.
He pointed out that elections make a beautiful and fulfilling aspect of the country's democratic system of governance, adding that taking part in an election should be about offering oneself to serve.
The Vice President said it should never be a must win process which would engender unsavory acts aimed at reaping undeserved rewards.