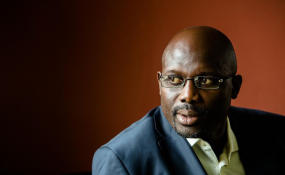 Photo: George Weah
By Jimmey C. Fahngon
... Richmond Anderson
Former Montserrado County District#12 representative has hailed the election of Ambassador George M. Weah as President of Liberia.
Addressing a news conference Monday, Rep. Richmond Anderson said the election of Ambassador Weah brings hope to the poor and slum dwellers that it is not impossible to rise above their current status and environments.
"The phenomenal rise of George Weah from the slum and dust of poverty to become an international icon and now President of Liberia can be summed up to commitment, determination, resilience, discipline, faith in God and himself and discovery of the talents God deposited in him. This is a lesson of success we all should learn," he noted.
However, he called on CDCians "who might believe that President Weah has the magic wand to respond to each of them demands for job, change in their current conditions over night, and solving all Liberia's problems at once to understand that government is an intricate process and problems solving cannot be instant."
He said Liberians need to manage their expectations if they really love the president-elect.
At the same time, former Rep. Anderson called on Liberians to unite more than ever before for the task of building Liberia.
Anderson: "As politicians, we have campaigned, we have vilified and monsterized our opponents; we have created obscene images and forgot that Liberia is a common denominator that has to be protected by Liberians. Now the elections are over and the people of Liberia have elected their president in the person of Senator George Manneh Weah. It is time to de-mystify the realm of politics and face the real world."
He said it is time to think Liberia and consolidate efforts to ensure that Liberia is pulled from the wells of economic depression, social challenges and political confrontations resulting from the elections.
Prof. Anderson said Liberians need to come together as one people with one destiny.