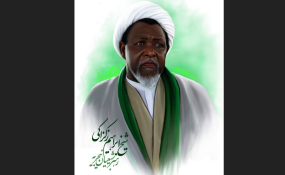 Photo: Mbazri/Wikimedia
A group known as 'Concerned Nigerians' has demanded the release of Sheik Ibrahim Elzakzaky, his wife, Hajia Zeena Elzakzaky and other members of the Islamic Movement of Nigeria (IMN) who have been held in custody since December 2015.
According to a statement sent to THISDAY by the Publicity Secretary, Theophilus Agada, it was noted that Justice Gabriel Kolawole of the Federal High Court, Abuja had ordered the federal Government to release him since December 2, 2016.
The group in the statement said there would be a sit out on January, 17 from 9-11a.m, at Unity Fountain, Abuja. It also invited Femi Falana, SAN, Festus Keyamo SAN, Oby Ezekwesili and other internation organisations and hunan rights groups as observers of the peaceful protest.
It also noted that they cannot longer remain silent in the face of these dastard acts of impunity especially the recent attacks on Shiites in Abuja last week. It stated: "Just last week, three members of the IMN were killed in Abuja by the police for carrying out peaceful protest which is a fundamental right. Attacks on peaceful Shiites' processions and protests have continued unabated."