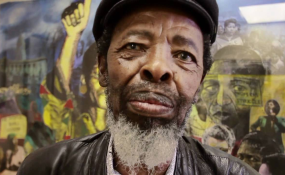 Photo: NationalBookWeek/YouTube
analysis
By Alma-Nalisha Cele and L Mokgoroane
A giant tree has fallen. Professor Keorapetse Kgositsile's literary genius and courage paved the way for writers such as Lebo Mashile, Natalia Molebatsi, Koleka Putuma and many others to use the pen of literature in the battle to defeat the evils of racism, patriarchy, homophobia and other hatreds. By Dr ALMA-NALISHA CELE and LETLHOGONOLO MOKGOROANE.
Audre Lorde once described poetry not as a luxury but as a vital necessity of our existence, forming the quality of the light within which we predicate our hopes and dreams toward survival and change, first made into language, then into idea, then into more tangible action. Poetry is the alchemy of transforming personal sentiments into the remedy of shared experiences that allow its readers to pin a name to universal but often unnamed shared experiences.
It is with greatest sadness that we honour Professor Keorapetse Kgositsile, a magician skilled in the alchemy of making magic of language.
As a multilayered being and writer, Prof's numerous works are the formations of many integral parts of the decolonisation project. His numerous, acclaimed acts are daring acts of the "redefining our selves" that the prodigious, literary innovator Thando Mgqolozana often speaks of. He was finally recognised as...