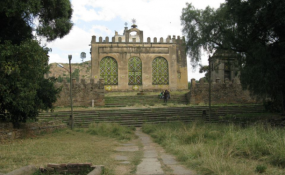 Photo: Michel Hoebink/ RNW
By Haftu Gebrezgabiher
The archeological sites and heritages discovered by Aksum University and Californian University archaeologists in the ancient town of the Mai Adrasha have clues of historical ties between pre-Axumit Kingdom, Israel.
The ancient town of Mai Adrasha which had been buried for centuries under ground some 60 km west of the present Aksum Town was discovered recently.
Though it is under examination, the dating results of the patterns, archeological structure of the town and the heritages including pottery and wooden products found buried under the ground have signs of historical relations between Israel and ancient Kingdoms in Ethiopia which dated back to the 11th and 12th century BC, said Aksum University Archeologist Dr. Hiluf Berhe.
The University, in collaboration with California University, is working to further explore the historical heritages in the ancient Axumit Kingdom, he added.
According to Dr. Hiluf, the newly discovered heritages will have immense contributions to deepen the contemporary understanding of history and rewrite the level of civilization in the ancient world apart from their vital experimental contributions to students and scholars of archeology.
Aksum University is set to integrate the heritages with the ancient sites surrounding Aksum to further promote the sites for the sake of tourism development, Dr. Hiluf added.