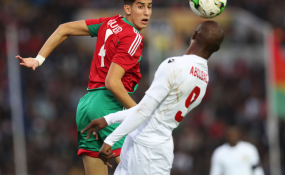 Photo: CAF
Ayoub El Kaabi continued his fine form in front of goal scoring three times as Morocco moved within touching distance of a place at the quarter finals thanks to a 3-1 win over Guinea in Casablanca.
The lanky forward was also on the score sheet in the opening match when his brace fired Morocco to a 4-0 win over Corentin Martins' Mauritania.
Ayoub broke the deadlock after 27 minutes when he headed Ismail El Haddad's cross on the right past Abdoulaye Kanteh via the cross bar.
Guinea replied instantly when Saidouba Bissiri Camara latched on to a through ball from midfield before chipping over the rushing goalkeeper Anas Zniti.
They continued to ply on the Guinea defense and were unlucky not to lead going into the break. Captain Badr Benoun glanced in a set piece over Kanteh's goal.
El Kaabi uses his pace to break on the left and tied up Zakaria Hadraf whose effort lacked purpose thus going off target 12 minutes into the second half.
Ibrahim Sory fired a shot from a distance over Anas' goal as Guinea build in confidence but that was short lived as Morocco capitalised on Aboubaca Camara's misplaced pass which El Kaabi slot past the helpless Abdoulaye Kanteh for his second of the evening.
Ayoub El Kaabi completed his hat-trick with a calm finish from a swift Morocco counter attack which exposed the Guinean defense and put the game beyond thier reach.
Sekou Camara missed a golden opportunity to pull a second for Guinea when his out stretched leg could not connect to Abubaca Camara's cross.
Ibrahim Sory Sankhon saw his strong set piece fumbled to the path of his teammate Sekou Keita who failed to hit the target.
Reactions
Jamal Sellami (Head Coach, Morocco)
We played well and deserved the win. The Guinea team is not bad as some of you suggest.
The six points is enough to confirm our place in the next round but we want to see the Sudan result and prepare to face them in our next match.
I'm very satisfied with the result and overall performance of my team.
Mohamed Kanfory Bangoura (Head Coach, Guinea)
Football is universal and tactical but we were not good enough to play against a well prepared team in Morocco.
Maybe the result does not tell our efforts but no one will say this Guinea team is not good .