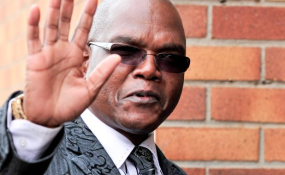 Photo: Daily Maverick
Suspended Crime Intelligence boss Richard Mdluli's position will, for the first time in six years, be vacant after he was granted early service termination, which includes benefits.
Speaking at a media conference in Pretoria on Wednesday, Police Minister Fikile Mbalula announced that Mdlui - who held the position of Divisional Commissioner at Crime Intelligence, albeit under a prolonged suspension - was being relieved of his duties with immediate effect.
Mbalula said that the termination was a mutual agreement.
Service the community
"This enables us to move to the next chapter and instil stability and vision at Crime Intelligence," said Mbalula.
"It is in the interest of the Republic of South Africa that a crime intelligence body has leadership that can function".
National police commissioner General Khehla Sithole responded to the termination of Mdluli saying that he would do so without stepping on Mdluli's constitutional rights.
He said that Mdluli had a choice between reporting back to work to service the community, whilst allowing departmental or criminal processes to continue or choose to a service termination package.
He said that during discussions between him and Mdluli, different service termination options were given.
"Then he chose an early leave from the office, which I granted and that early leave goes with the benefits and the pensions that he is entitled to as per Human Resources precedents".
Still facing charges
Sithole said the processes against Mdluli, whether criminal or departmental, would be allowed to continue and added that Mdluli wasn't the only senior officer called in to be given the choice of leaving or going back to work.
News24 previously reported that Mdluli - who had been on suspension for more than six years - allegedly continued to earn a full salary, with benefits, while sitting at home.
Mdluli, along with co-accused Mthembeni Mthunzi, is facing charges for the 1999 kidnapping and assault of Oupa Abel Ramogibe - Mdluli's ex-girlfriend's husband.
Both men face charges of intimidation, kidnapping, assault with the intent to do grievous bodily harm and defeating the ends of justice. Both pleaded not guilty.
Shortlist of candidates
Mdluli has also been charged with fraud relating to the unlawful appointments of family members as paid police officers in crime intelligence, as well as being accused of allegedly misusing money from the police's slush fund to purchase luxury vehicles for his family members.
Mbalula also announced that the process to appoint the head of the Hawks was underway and that an advertisement for the position had been published.
He added that an Independent Interviewing Panel would be appointed to advise him on a fit and proper shortlist of candidates to choose from.
"I invite our members and all South Africans who have this career passion to apply," said Mbalula.
The closing date for applications is February 9.
Source: News24