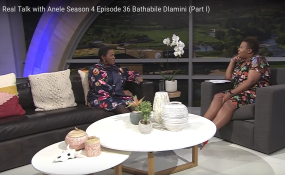 Photo: Real Talk With Anele
analysis
On 18 December, slap bang in the middle of the ANC's bruising elective conference at Nasrec, Anele Mdoda, host of the SABC 3 Real Talk with Anele, re broadcast a two-hour hagiographic profile of Minister of Social Development Bathabile Dlamini. Queries by Daily Maverick to confirm the payment of R500,000 of public funds by the DSD to the SABC for the interview, have been met with a long and stony silence from all concerned. By MARIANNE THAMM.
UPDATE: Lumka Oliphant, Minister Dlamini's spokesperson has made contact and has provided the following explanation for the R500 000 paid to the SABC to conduct the interview. A livid Oliphant insisted the Department was entitled to pay for interviews to be conducted by the press. Daily Maverick would like to alert readers to the fact that we do not get paid for interviewing anyone. When we do carry advertorials, which are paid for, this is clearly and prominently marked.
"The Department of Social Development through GCIS buys space to the media for the sole purpose of marketing and advertising of the Minister of Social Development, the Department and its agencies.
"To date, through GCIS the Department has transferred more than R5 million to...