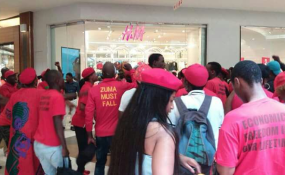 Photo: Supplied
analysis
By Judith February
The EFF is struggling for relevance in a South African political landscape that is shifting fast. The next national election is in 2019 and then their strategies will be tested in a campaigning environment in which they will not have Zuma to lambaste as president of the ANC. What will their message to voters be then - we trashed a few stores and ended racism?
The controversy hit when clothing store H&M ran advertisements featuring a black boy wearing a hoodie with the words "Coolest monkey in the jungle".
Last Saturday as recently elected ANC president Cyril Ramaphosa was delivering his speech at the ANC birthday rally in the Eastern Cape, the opposition "fighters" from the EFF were trashing H&M stores in response to the racist ad. Floyd Shivambu tweeted the following alongside pictures of the trashed stores: "Well done to Fighters who physically confronted racism." Mirrors were smashed, clothing pulled from their rails and general mayhem and intimidation ensued. In an East Rand mall, rubber bullets were fired in the chaos. Since then H&M have closed all 17 their stores in South Africa. The EFF has continued to defend its stance and protest outside stores.
Apart from this being...