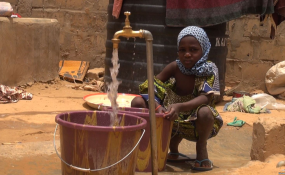 Photo: Nicolas Pinault/VOA
By By Anne Robi
DAR ES SALAAM Water and Sewerage Corporation (DAWASCO) is charting plans for offering free water connection to residents who are unable to afford bills.
In an exclusive interview with the 'Daily News', a senior official, Mr Kiula Kingu, said the offer would be availed to unprivileged residents close to DAWASCO water sources.
"The offer will start in this financial year by encouraging residents in areas where DAWASCO sources are currently located and many others yet to receive the sources to apply for the offer by sending the requests DAWASCO," he said, stressing that the offer was strictly for those who were genuinely unable to afford bills for water connection.
Mr Kingu explained that the offer was among the firm's 2018 water supply enhancement strategies, for assuring the majority of Dar es Salaam residents of clean and safe water supply, for social welfare promotion and economic development.
He said those to be connected for free would be allowed to use the water freely and pay in accordance to what they could afford either on a monthly basis, through loans or in whichever other way they would deem appropriate.
"Once such people are connected to water supply points, they would use it freely without pressure for meeting monthly payment deadlines, and won't be inconvenienced by disconnections if they fail to pay," he explained.
He said the aim was to ensure that DAWASCO reached and supplied the precious liquid to the majority of the residents towards the enhancement of the community's development and the nation at large. DAWASCO's projection was to attain a target of 400,000 new customers planned June this year.
Currently, DAWASCO has about 220,000 active customers located in Dar es Salaam and Coast regions.
The Project Manager, Engineer Ramadhan Kassim, said DAWASCO had come up with various short and long water development projects for implementation starting this year in order to cover as many people as possible, plus major customers like public institutions and factories.