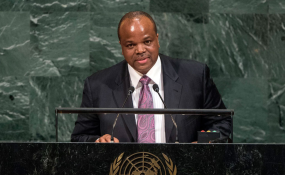 Photo: Cia Pak/UN Photo
Civil liberties in Swaziland have deteriorated in the past year, a leading global freedom group has reported.
Freedom House reported, 'Swaziland's civil liberties rating declined from five to six due to increased government infringements on religious freedom and freedom of private discussion.'
The organisation said this in the Freedom in the World 2018 report just released. On a scale from one to seven where seven is the least free, Swaziland scored 6.5 on freedom; seven on political rights and six on civil liberties. It scored 16 out of 100 in total and Freedom House reported Swaziland was 'not free'.
It has yet to release a detailed report on human rights in Swaziland for the past year. Swaziland is ruled by King Mswati III as sub-Saharan Africa's last absolute monarch.
Freedom House is not the only organisation to issue annual reports on freedom in Swaziland. The United States State Department in its most recent report published in 2017 and covering 2016 stated, 'The principal human rights concerns are that citizens do not have the ability to choose their government in free and fair periodic elections held by secret ballot; police use of excessive force, including torture, beatings, and unlawful killings; restrictions on freedoms of speech, assembly, and association; and discrimination against and abuse of women and children.
'Other human rights problems included arbitrary killings; arbitrary arrests and lengthy pretrial detention; arbitrary interference with privacy and home; prohibitions on political activity and harassment of political activists; trafficking in persons; societal discrimination against members of the lesbian, gay, bisexual, transgender, and intersex community and persons with albinism; mob violence; harassment of labor leaders; child labor; and restrictions on worker rights.'
Human Rights Watch in its report on events in Swaziland in 2016 stated Swaziland, 'continued to repress political dissent and disregard human rights and rule of law principles in 2016. Political parties remained banned, as they have been since 1973; the independence of the judiciary is severely compromised, and repressive laws continued to be used to target critics of the government and the king despite the 2005 Swaziland Constitution guaranteeing basic rights.'
In May 2017 the global charity Oxfam named Swaziland as the most unequal country in the world. The report called Starting With People, a human economy approach to inclusive growth in Africa detailed the differences in countries between the top most earners and those at the bottom.