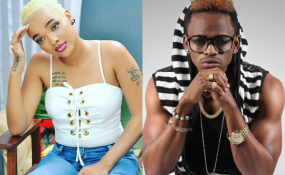 Photo: The Nation
By Thomas Matiko
Bongo flava star Diamond Platnumz or Simba as he's popularly known is at it again. He's hitting the headlines on women-related matters.
The woman at the centre of the controversy this time is Tanzanian video vixen and socialite Tunda Kisura. She is supposedly carrying his child.
But the rumour does not stop there.
It has also been claimed in showbiz circles that Diamond's well-known baby mama Hamisa Mobetto and Tunda have been involved in a bitter exchange of words because of the alleged pregnancy.
Tunda recently took the time to clear the air on the matter, saying:
"Nimechoka mimi kuongelea hili suala, mimi na chibu hatuna uhusiano wowote wa kimapenzi nilishasema yaani hii ni mara ya nne nasema yani ni mtu ambaye namuheshimu halafu unajua mimi ni team WCB, nawapenda WCB wote ndio maana unaona nimekaa upande wa WCB kwahiyo hayo mambo ya mimi kutoka na Naseeb sio kweli Naseeb ni mtu tu ambaye namuheshimu na nampenda, Halafu sina kibendi (mimba), kila siku kibendi jamani eeh! Nimechoka sina mimba mimi."
(I'm tired of talking about this issue, Chibu (Diamond's nickname) and I aren't romantically involved in any way.
This is the fourth time that I am addressing this issue. I respect him and am close to Team WCB. I love them all and all that's being said about Naseeb and I is not true. Having said that, I want to repeat that I'm not pregnant by him or anybody else.)
Diamond has been quick to rubbish the claims stating that he is used to the kind of life where everyone will try to make up and sell a story using his name.
His partner whom he confessed to cheating on , Zari, has also weighed in on the matter, asking her fans to stop tagging her on blogs reporting on the alleged affair as she insists that she will stick to her relationship with the star and doesn't need advice from anyone.