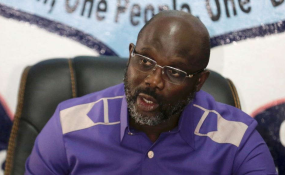 Photo: VOA News
By A. Omaska Jallah
President-elect Ambassador George M. Weah has unveiled plans for street boys, car loaders, who are referred to as 'zogos.'
Unveiling the plans Wednesday in Monrovia, Ambassador Weah said 'zogos' are also members of the Liberian society, as such, they also have right to proper living conditions.
He said his administration will create a rehabilitation center where zogos will voluntarily be placed and trained in various disciplines thereby making them productive citizens.
Amb. Weah disclosed plan to build a factory for 'zogos,' something that will encourage them to abandon street life.
He said the integration and the rehabilitation, which will be on a volunteer basis, will depend on the consent of the zogos, stressing that they will not be forced, as it will be in their best interest.
Of recent, there have been too many car loaders in the streets, mixed with criminals and zogos.
Weah said he believes that the street is flooded with criminals and zogos because they are less busy and nobody wants to come to their aid in helping to rehabilitate them.
Ambassador Weah made the statement at the Slipway Sports Pitch in Monrovia at program marking the birth anniversary celebration of his Vice President-elect, Bong County Senator Jewel Howard-Taylor.
In remarks, the Vice President elect expressed thanks and appreciation to all those who attended her birth anniversary celebration.
The program was attended by the Speaker of the House of Representatives, Bhofal Chambers and some members of the Legislature.