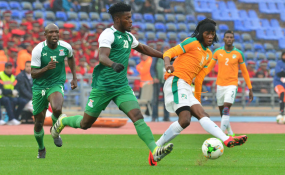 Photo: CAF
Augustine Kabaso Mulenga scored in either half to power Zambia to a 2-0 win over Cote d'Ivoire on Thursday in Marrakkech, their second at the tournament.
The ivorians who have former international Kolo Toure among their coaching staff started on a bright note when Vieira Sanogo found space on the left channel teeing up William Togui whose close range effort went wide.
The Chipolopolo reacted with a counter attack on the right where diminutive Ernest Mbewe raced through and played in striker Friday Samu who fired over Ble Zadi's goal.
Mulenga broke the deadlock after eight minutes when Lazarous Kambole recovered possession midway through the Elephants half setting up the Zanaco forward who fired past Ble Zadi for his second of the tournament.
Kondwani Mtonga came close to increasing Zambia's lead but his close range header from Kapumbu's long throw was unconvincingly gathered by Zadi.
Friday Samu who led the line for Zambia cut in from the right side of attack to play a neat past to Kambole who shot wide.
Ivorian winger Fonsinho dribbled past Kapumbu on the right before curling a shot which Toaster Nsabata saved.
Mbewe who was a threat for Elephants on flanks headed Mulenga's well timed cross on the left against the crossbar on the half hour mark.
Mulenga secured victory for Zambia 18 minutes from time with a composed finish after Mbewe ran through the opponents midfield to set him up the second of the day.
Total Man of the Match: Augustine Mulenga (Zambia)
Ibrahim Kamara (Head Coach, Cote d'Ivoire)
We came here to prove ourselves but it did not work. We are disappointed. We have to win and keep a smile on the faces of our fans at least and to leave with our heads high. It's like a final and we have to leave with three points. Zambia performed well and showed that they have what it takes to thrive in a competition of this nature.
It is difficult for my players to match the standards because some of the teams in our group are parading their main senior national teams. Now, we have to prepare for the Olympics (in 2020) because the players have potential.
Wedson Nyirenda (Head Coach, Zambia)
Cote d'Ivoire gave us a good run. The fact that we emerged victors doesn't mean we are the best. We saw a very good Ivorian team and they really gave us a good run for our money.
We were fitter and better and won the game. We may have qualified but won't take the last match easy. We need to do our best and make sure we collect the maximum points in the third game against Namibia.
Augustine Mulenga (Total Man of the Match)
I'm happy for today's result. We followed the coach's instructions. It was not an easy game. We fought and congrats to my colleagues for a good job done. We have achieved what we wanted. Our target is one game at a time and the maximum point from each game. We are looking forward to topping the group.