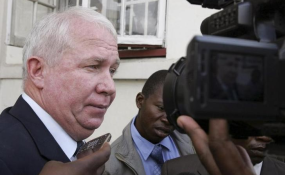 Photo: Deutsche Welle
By Zvamaida Murwira
Former MDC-T national treasurer Mr Roy Bennett and his wife Heather died in a helicopter crash in Canada yesterday.
Details of circumstances surrounding their death were not immediately clear, but several senior MDC-T officials posted on social media platforms, especially on Facebook, announcing the death. MDC-T spokesperson Mr Obert Gutu confirmed the death last night in a statement.
"The MDC received with utter and complete shock, the news of the tragic passing on of our former national treasurer-general, Roy Bennett and his dear wife Heather in a helicopter crash in Canada on Thursday, January 18, 2018," said Mr Gutu. He described Mr Bennett as a resolute and committed fighter for democratic change in Zimbabwe.
"A founder member of the MDC, Roy was a charismatic and extremely popular grassroots mobiliser who easily connected with both senior and ordinary members of the party," said Mr Gutu.
"Roy or Pachedu, as he was affectionately known, was a successful commercial farmer in Chimanimani." Former MDC Senator, David Coltart posted on Facebook saying: "I have just confirmed from three separate reliable sources that Roy and Heather Bennett have been tragically killed in a helicopter accident in North America.
"I am devastated, they were two of Zimbabwe's greatest patriots. My condolences are extended to their family and friends." MDC-T vice president Advocate Nelson Chamisa also posted his condolences.
"I am devastated as I have just received tragic news about Roy Bennett and wife's involvement in a helicopter accident in Canada," he wrote. Mr Bennett became Member of Parliament for Chimanimani in 2000 on an MDC ticket
He had a brush with the law in 2004 after he was charged and convicted of contempt of Parliament after he assaulted the then Justice, Legal and Parliamentary Affairs Minister Patrick Chinamasa. The incident occurred during a debate in which Minister Chinamasa was pushing for a nine-year mandatory sentence for stock theft.
At the time of his death, Mr Bennett was in self-imposed exile after he skipped the country when law enforcement authorities charged him with "conspiring to acquire arms with a view to disrupting essential services". At the inception of the inclusive government in 2009, MDC-T leader Mr Morgan Tsvangirai nominated Mr Bennett as Deputy Minister of Agriculture, but former President Mugabe declined to swear him, saying he should first be cleared in the courts.