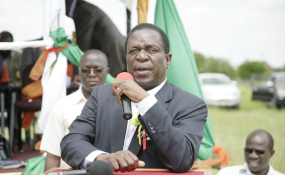 Photo: The Herald
By Felex Share
Youths should articulate their challenges freely, as the new dispensation will listen to their concerns and address them, President Mnangagwa said yesterday. Responding to questions during a dialogue with youths in Harare, the President said dialogue and proper communication were key in taking the country out of economic challenges. The dialogue was organised by Global Shapers Community, a network of young people.
"Wherever the youths are in Zimbabwe, I say to them this is a moment where they must speak out," said President Mnangagwa. "Where they must tell my administration what their challenges are, what they want us to do, what environment they want my team to create for them. "We are good listeners. I myself I am a good listener and would want to listen and with them, dialogue, and say this is where I want to go."
He went on: "One principle in my own vision is that this nation should not go where it wants to go, but it should go where it ought to go, nice or not nice.
"As a leader I have a vision as to where the nation should go and fortunately my team supports that vision. I would want to share with the young generation because we are doing this for them, for their future lives so that when they take over from us they have a vision of a country that is united, a vision that works and makes sure whatever they are doing they are doing it not only for their own good, but the legacy of generations to come."
President Mnangagwa said there was no reason for the youths to be afraid of articulating their concerns. "Please, come forward and say this is what we want," he said.
"I need dialogue, contact, discussion and conversation with young generation for me to understand their challenges and aspirations. Where we are able, we satisfy their aspirations and needs and where we are not, we will be able to explain. I would want them to be involved in these things so that we leave a legacy where they feel proud about us when we are gone."
President Mnangagwa said Government would put in place safety nets to assist youths who failed to succeed in a free market economy. He said Zimbabweans should embrace changes happening in the world of technology if the country was to develop.
"Change is not easily embraced by everybody," he said. "Some people are so entrenched, rooted and conservative and would not want to embrace change as quickly as others. We must realise that we are not an island. We are living in a global village where things are changing on a daily basis and we should not remain behind. I believe that the younger generation is more adaptable to change because you have been brought up in that environment. You might have challenges with my colleagues at my level, but fortunately my team in Government accepts that there is change and we must embrace it."
President Mnangagwa said many institutions countrywide were rooted in the past. "We have headmasters who have been in charge for 20 years or more and they do not want to change, but let me assure you that those who do not want to change will remain behind," he said. "We must change for the good, not for the worse."
Youths, said President Mnangagwa, should not be used in vices such as violence as the country geared for harmonised elections this year. "I believe we have capacity as Zimbabweans to be honest about ourselves," he said. "The youths should not allow to be used by individuals. They must be patriotic and proud youths who want to build a peaceful Zimbabwe for themselves and their children. That should be the message."