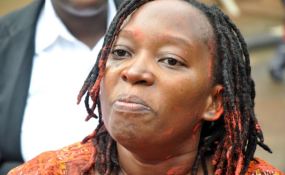 Photo: Daily Monitor
By Jane Justine Mirembe
Kampala — Dr Stella Nyanzi has had an unbeaten run in attacking different people online but on Thursday (today) she got a taste of her own medicine when her own sister, Sheila Nyanzi hurled grenades at her on a social media post.
The troublesome post was about how the now warring siblings' parents used to fight in their children's presence.
Nyanzi who said she was reminded about the domestic violence she witnessed as a child after watching drummers play the engalabi, a traditional Buganda drum, wondered how a husband who inflicts pain upon his spouse can also be very sweet to outsiders.
"My parents' violence made me a fighter. I am a fighter because throughout my life I watched my mother fighting back against the aggressor in her husband, my father. I am a fighter because I know what it means to sit back and do nothing against violent aggressors. I am a fighter because I know that even when the violated walk away, their violent aggressors return again and again to beat them up. I am a fighter because I know that one day my mother used her sharp incisors to inflict a lesson upon my father's slapping arm. She bit him so hard that she wounded and scared his arm forever," Nyanzi wrote.
This however did not go down well with Nyanzi's younger sister, Sheilah Nyanzi who immediately told her to stop making up stories about their dead parents just to get cheap popularity.