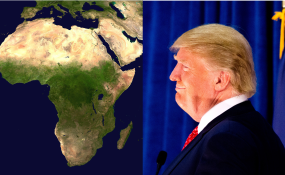 Photo: allAfrica/Wikimedia Commons
analysis
Former US ambassadors to 48 African countries have written an open letter to President Donald Trump expressing concern about his reported dismissal of African nations as "shithole" countries. By PETER FABRICIUS.
The former envoys, including four who represented Washington in Pretoria, and three former Assistant Secretaries of State for Africa, have urged Trump to "reassess" his views on Africa and to recognise the importance to the US of its partnerships with most of the 54 African nations.
This included "brilliant entrepreneurs" who had been critical to the success of American companies and African military and intelligence officials "who often assumed real risks to help achieve outcomes critical to our shared security".
"We know that respectful engagement with these countries is a vital part of protecting our own national interests. The United States of America is safer, healthier, more prosperous, and better equipped to solve problems that confront all of humanity when we work with, listen to, and learn from our African partners. We also know that the entire world is richer because of the contributions of Africans, including the many Americans of African descent."
The four former US ambassadors to South Africa who signed the letter are Patrick Gaspard, who...