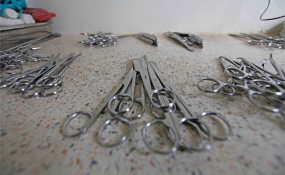 Photo: Edward Echwalu
By Florence Mugrula
Iramba — THE campaign on voluntary male circumcision that aims at reducing the risk of HIV/Aids infections and other diseases has successfully kicked off in Singida Region, with a high number of people turning out for the free service.
The campaign has been launched in two Singida Region districts - Iramba and Singida. Speaking to the 'Daily News', the Programme Manager for Voluntary Medical Male Circumcision (VMMC) Jhpiego, Dr Felix Mkina, said the response was good and that more than 500 people had been circumcised since its launch.
"We have a total of 12 centres; we collect data from each centre every day, so far more than 500 men have been circumcised in the ongoing campaign," he said.
Singida has been picked for the project among many regions due to the fact that in recent years, there had been an increase in the number of people from different parts of the country, mostly pastoralists who moved with livestock.
VMMC services for HIV prevention are offered free of charge in Singida Region, with the support from the US President's Emergency Plan for AIDS Relief (PEPFAR) through the United States Agency for International Development (USAID) under the AIDSFree Project.
The project is being implemented in cooperation with the Ministry of Health, Community Development, Gender, Elderly, and Children. He added that AIDS prevalence was another reason behind picking Singida for the project. Other regions where voluntary male circumcision has taken place include Njombe, Tabora and Iringa.
He said the target was to cover at least 17,018 males in Iramba District and 16,311 males in Singida District, respectively.
Commenting on the importance of the exercise, Dr Mkini said male circumcision protected men by 60 per cent from HIV infections, adding that uncircumcised men faced a 60 per cent risk of being infected by HIV/AIDS.
"Our target is to circumcise males between 10 and 29 years. This is a group which is at a big risk of getting HIV/ ADS. However, we offer the services to whoever visits our centres for the service as long as his age is above 10 years," he explained.
Ms Emmy Mkwawa, a coordinator for Volunteer Community Advocates (VCAs), said they applied various methods to reach people and educate them on the importance of male circumcision.
She said VCAs have been undertaking a door-to-door approach in educating wananchi on the importance of male circumcision, adding that there had been a rise in the number of men who voluntarily visited centres for circumcision.
One of the assistant medical officers who are fully engaged in the project, Ms Fortune Itael, said the turnout had been fairly good, adding that at her centre, Tulya dispensary, she attended between 10 and 15 men a day, adding that initially, the number was bigger and that the centre was attending at least 30 males a day