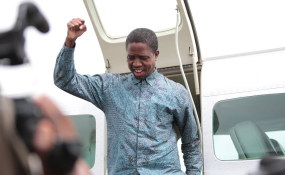 Photo: Zambia Reports
By Rebecca Mushota
PRESIDENT Edgar Lungu has assured the international community that Zambia will continue playing its key role of promoting peace, education for girls and trade in Africa and beyond, for the benefit of Zambians and global peace.
President Lungu said Zambia last year, committed its efforts towards the promotion of peace and girl-education as well as fostering trade under bilateral and multilateral arrangements.
He said 2017 was a rewarding year for Zambia in terms of bilateral and multilateral cooperation and he was grateful to the various embassies and their countries for their continued support.
Mr Lungu said this year; Zambia would continue its active participation in regional and continental bodies to foster peace, beneficial trade and push for Africa's permanent seat at the United Nations Security Council.
Mr Lungu said this at the annual greeting of members of the Diplomatic Corps accredited to Zambia at State House yesterday.
He said that Zambia through the Southern African Development Community
(SADC), the Common Market for Eastern and Southern Africa (COMESA) and the International Conference on the Great Lakes Region (ICGLR) would continue working towards increasing economic cooperation and address peace and security challenges that continue to confront the region.
The country would this year also assume chairmanship of the SADC organ TROIKA on politics, defence and security cooperation would continue with its work in addressing potentially volatile political situations like it did as a deputy in Lesotho and Zimbabwe.
The President also said there was need for Zambia's partners to continue rendering support towards providing for the basic needs of the thousands of refugees who have left the Democratic Republic of Congo (DRC) dislodged due to violent conflict in that country.
"I wish to assure your Excellencies that Zambia, through her membership to SADC and the ICGLR, remains committed to regional efforts aimed at restoring peace and stability in the DRC," Mr Lungu said.
He said Zambia's simultaneous membership to the SADC peace organ, the Africa Union peace and Security Council and the ICGLR was a demonstration of its unwavering historic commitment to regional and continental peace efforts.
The President said in its role as champion against child marriages, Zambia would continue working towards promoting youth education especially with the emphasis on girl child.
He said alongside other African countries, Zambia would invest in youth entrepreneurship because the continent had a huge number of people below the age of 25.
And Dean of the Diplomatic Corps in Zambia Balbina Dias da Silva said she was happy that despite various economic challenges that countries faced in 2017, Government continued to provide for its key areas.
She said the Diplomatic Corps deeply regretted the deaths of Zambians because of cholera and that the partners would do everything they could to support the country rise above the challenge.