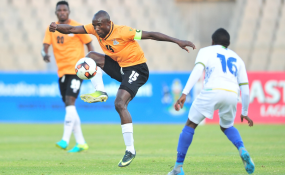 Photo: Samuel Shivambu/BackpagePix
By Samuel Lukhanda
ZAMBIA has moved up two places on the latest FIFA Coca-Cola World Ranking released yesterday to 72 in the World but still stagnant in 15th on the continent.
The Chipolopolo rankings improved towards the end of 2017 after a bad start in the Russia 2018 World Cup and Cameroon 2019 African Nations Cup qualifiers slumping to as low as 99 but rebounded late in the year to end December in 74th position.
Last year saw the Chipolopolo play 16 games winning four, losing as much and drawing seven.
The rankings are calculated over the previous four years, with each year given a different weighting, starting with the highest for the most recent.
World Cup bound Tunisia are the best movers in Africa as they are the top team though occupy 23rd position in the World followed by Senegal who they displaced at the top.
CAF team of the year Egypt is third followed by Morocco and DR Congo complete the top five teams on the continent despite falling four places down. The highest gainer in Africa is Sudan who moved 12 places up and now ranked 124 in the world and 32 in Africa
Meanwhile, there was no movement in the top five of the global list as Germany keep top spot followed by Brazil, Portugal, Argentina and Belgium.