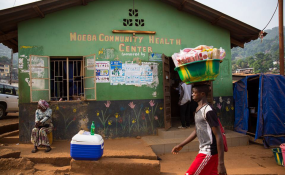 Photo: MINUAUCE/Martine Perret
By Kemo Cham
A Sierra Leone court has ordered the arrest of an opposition presidential candidate on charges of contempt.
A magistrate sitting in Segbwema in the eastern Kailahun District issued the arrest warrant for Mohamed Kamaraimba Mansaray of the Alliance Democratic Party (ADP) for failing to appear before the court.
Mr Mansaray is standing trial for alleged unlawful arms possession, a charge he has denied, saying it was politically motivated.
He was charged last year alongside one of his aides, Mohamed Bangura, who was accused of malicious damage and assault.
The prosecution alleged that Mr Mansaray was found in possession of a stun gun without licence, following skirmishes involving supporters of the ruling All People's Congress (APC) party in Segbwema, about 350km west of the capital Freetown, during a by-election.
The politician's aide was accused of attacking APC supporters.
The magistrate said Thursday that the two accused persons showed gross contempt of the court by failing to show up.
The judge ordered that the two be detained until the next trial date on January 24.
Questioned on why he failed to appear in court, Mr Mansaray and his lawyer are quoted as saying they did not receive the notice of hearing.
The ADP presidential candidate is scheduled to present his nomination papers to the National Electoral Commission in Freetown on the same date as the trial.
His supporters say the timing is a calculated move to prevent him from contesting the polls.
Sierra Leoneans go to the polls to elect the president, MPs and local representatives on March 7.