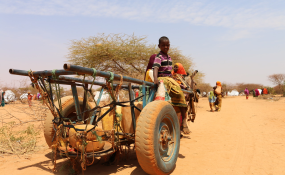 Photo: NRC/Nashon Tado
By Fred Oluoch
Despite the swift international response that saved millions of Somalis from starvation last year, an estimated 6.2 million people are still in need of humanitarian assistance.
Due to insecurity and drought, about two million Somalis have been internally displaced and the country needs $1.6 billion urgently to save 5.4 million people, who are facing starvation due to drought.
Peter de Clercq, the Humanitarian Co-ordinator for Somalia, while launching the 2018 Somalia Humanitarian Response Plan (HRP) in Nairobi on January 17, said that food security needs have nearly doubled.
An estimated 1.2 million children are projected to be malnourished in 2018, 232,000 of whom will face life-threatening severe acute malnutrition.
"To mitigate future crises, humanitarian groups are working with development partners and Somali authorities to address the underlying causes of food insecurity and mass displacement, through the development of a Recovery and Resilience Framework," said Mr de Clercq.
The 2018 HRP is an extension of the 2017 famine prevention efforts and its priorities are immediate relief operations in areas with significant numbers of people living in crisis and emergency.
Mr de Clercq said that with important progress made on the political and governance fronts, Somalia is on a positive trajectory, despite ongoing crises.
"The country has more effective institutions that have not been working for over two decades. However, these gains are reversible and must be protected, through continued international support to break the cycle of recurrent crises," he said.
Last year was one of the most challenging for Somalia, with the country precariously close to famine after several failed rainy seasons.
Hundreds of thousands of people were driven from their homes as a result of the drought and persistent conflict, resulting in unprecedented levels of displacement.
However, famine was averted in Somalia last year, due to scaled-up humanitarian response with generous contributions from donors who provided nearly $1.3 billion.
With the growing humanitarian needs, indications are that the effects of the prolonged drought will extend into 2018, while Al Shabaab terror group continue to be a major threat the delivery of food aid to the needy.
Humanitarian organisations continue to face severe road access challenges in the most of the 42 districts in southern and central Somalia. This is attributed to insecurity posed by Al Shabaab, proliferation of unauthorised checkpoints and extortion by security forces and non-state armed actors.
The constrained passage of supplies continues to drive up their cost, and affects the value of humanitarian assistance.
Election of new president
Somalia Prime Minister Hassan Ali Kheyre said that the support that marked the election of President Mohamed Abdullahi Farmaajo in February 2017 was cut short by the famine, forcing the government to declare a national disaster.
The fragile humanitarian crisis and drought peaked at a time the new government was still at a formative stage.
"We knew that we could not pull through alone and that we did not have the resources we needed to reach all drought-affected people. But we decided to instil a sense of ownership and mobilise our people, so they become the first responders during the emergency," said Mr Kheyre.
He added that the forecast for rains in 2018 is generally below average, with a risk of La Niña.