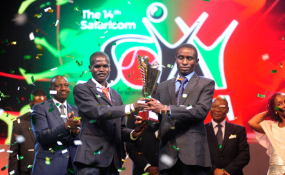 Photo: Chris Omollo/Nation
By Ayumba Ayodi
Nothing had prepared para-athlete Samwel Mushai for what awaited him at the 2017 Sports Personality of the Year Award (Soya) Gala on Wednesday at the Kenyatta International Convention Centre in Nairobi.
It was just like any other night for the 29-year-old Mushai, who thought his world had collapsed after his life changed in 2000 when he suddenly lost his sight.
Mushai thought he had no chance just like in 2012 when he finished third in the Sportsman Living with a Disability before winning the category in 2016 after his double medal exploits at the Rio Paralympic Games.
For him, there was no chance coming up against the likes of World champions; the national record breaking Hellen Obiri (5,000m), the 2017 IAAF Athlete of the Year nominee Elijah Manangoi (1,500m), Conseslus Kipruto (3,000m steeplechase), Geoffrey Kirui (Marathon) and Faith Chepng'etich (1,500m).
However, the script read differently this time around, and perhaps for the first time since the inaugural 2004 Soya Gala.
It came as a surprise when Mushai was declared the overall winner to see him become the second para-athlete to win Soya after legendry Henry Wanyoike in 2004.
"For sure I can now say, disability is not inability... it's a dream come true and it's a great honour being declared Kenya's best in 2017. I thank God for his blessings," said Mushai, who won both the T11 1,500m and 5,000m gold medals at the World Para Athletics Championships held on July 13 and 23 last year in London to count for his victory.
Mushai, who had earlier sealed his second consecutive Sportsman with Disability award, described beating some of the world finest able-body athletes as "incredible and unbelievable."
WON GOLD IN BRAZIL
With his long time guide James Boit, Mushai, who is the world record holder in T11 with a time of 3 minutes and 58.32 second, cracked 4:11.54, beating Canadian Jason Joseph Dunkerley (4:13.67) to Paralympics gold.
Mushai clocked 15:41.54 to beat Cristian Valenzuela (15:49.63) from Chile for victory in 5,000m race.
Mushai's performance was a replica of the 2016 Rio Paralympic Games where he won the two races.
It's this show that has inspired Mushai to declare he will defend the titles in 2019 Doha World Para Athletics Championships and 2020 Tokyo Olympic Games respectively.
"It's all about hard work, hard work and discipline and I think God had a purpose in my life especially after I had lost hope after turning blind at a young age," said Mushai. "It's amazing and I thank Kenyans for their support and especially Soya panel of judges, who handed me the victory."
"I think I deserved the victory considering the hardships I have gone through... it's only by the grace of God," said Mushai, who was a great fan of athletics and especially legends like Soya founder Paul Tergat.
"I wanted to rule the world in athletics one day like Paul Tergat when I witnessed him winning every title at World Cross Country," said Mushai. "I thought my world and sporting dream had ended when I turned blind."
It started with some etching eyes back when Mushai was only nine years. Doctors dismissed his condition as allergy which would disappear with time.
The situation got worse in 2000 when he couldn't read, a situation that forced him out of school. "I think it was the worst moment of my life since I was forced to stay at home and I couldn't visit my friends as usual," said Mushai. "I was a bubbly child but I was unable to do basic chores like even going to the toilet."
Even though Mushai, who was living with his family of four three boys and one girl in Kitale where he was born on December 26, 1988, got the much help and attention he needed from his family and friends, that didn't help much. "I didn't want to blame God but I prayed to Him to make me useful in my condition. I thought it could have been better to be born blind than lose your sight later."
The 29-year-old was to get enrolled at St Francis School for the blind in West Pokot in 2003 where he met para-athlete Joseph Lomong, who was equally blind. "He told me getting blind wasn't the end of the world and advised me to take on athletes since I had interest."
Mushai got down to business where he trained in sprint events, 100m, 200m and 400m after school. He went on to post personal best of 24.25 in 200m and 53 in 400m.
Mushai's talent was quickly noticed in 800m and 1,500m running by 2006.
Come 2007, Mushai won the trials for the African Games in Algiers where he won 1,500m to set the stage for the 2008 Beijing Paralympic Games.
There, in the world's most populous country, Mushai's popularity soared as he claimed silver in the metric mile race.
There was no international action in 2009 and 2010 but Mushai attended his first World Para Athletics Championships in 2011 in Christchurch, New Zealand where he collected a silver medal in 1,500m, losing to Brazilian Odair Santos.
The 2012 London Paralympics would turn out to be memorable one for Mushai.
He not only claimed his major maiden victory in 1,500m but did it with a world record breaking time of 3:58.32. That feat saw Mushai nominated for the first time for the Soya Gala.
"It really felt great winning at the Olympic Stadium in London. It is even sweet to claim a WRC at the venue after David Rudisha in 800m," said Mushai.
He came back strongly in 2015, after a relatively quiet 2013 and 2014 seasons, winning the 800m race at the Grand Prix in Tunisia before getting bronze in 400m. He also reached the 200m race final at the 2015 Africa Games in Congo, Brazzaville.
"There were no middle and long distance races in Brazzaville," noted Mushai.
Mushai moved up to 5,000m for the first time in 2016 and did not take long to make his mark.
He won two gold medals in 5,000m and 1,500m at Dubai Grand Prix before wrapping up what emerged as the most successful year for him with victories in the two races at Rio Paralympics.
Mushai never let his spikes off the gas pedal in 2017 shining at the London Para Athletics Championships with double victories in 5,000m and 1,500m.
"It gives me the urge to train more and aim higher. I target to defend my title in 2019 Doha World Para Athletics and 2020 Tokyo Paralympics," said Mushai, who paid tribute to his guide Boit, who has been with him through his career.
"I have achieved all these with Boit, who has been humble and understanding," said Mushai, who also thanked his coach Ruth Chumo, his family and friends for their enormous support. "I must say the government has also been supportive with the cash rewards but I think it can only get better."
Mushai said they have managed to overcome a myriad of challenges on their way to success. "It demoralises when you train then you fail to travel due to lack of funds. Para athletes also need equal attention just like able bodied ones," said Mushai adding that unlike their well-established colleagues without disabilities, they train on their own without managers or coaches.
"I might have been lucky to get rewards from some events. Sometimes we go without allowances. Some of my colleagues are yet to get their cash rewards after victories in many events," said Mushai, who is still waiting for his cash reward for his victories at the 2011 and 2017 World Para Athletics Championships.
The government has cash reward scheme of Sh1 million for gold medallists from either Olympics and Paralympics and Sh750,000 for World Championships.
Mushai said he has invested wisely in farming in Kitale from the cash rewards he got with victories at 2012 London and 2016 Rio Paralympics.
Mushai, who has his training camps in Kitale and Nandi Hills, now turns his attention to World Para Grand Prix due in March in Doha.
"Many people are talking about the possibility of turning to marathon but I have no plans of leaving track since there are very few road races for para-athletes," said Mushai, who urged Soya organisers to consider their guides when rewarding athletes.