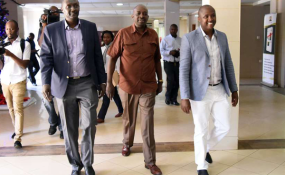 Photo: Evans Habil/The Nation
By David Mwere
Nasa MPs will oppose attempts by Jubilee to remove four MPs from the leadership of their committees to safeguard the independence of Parliament.
Minority leader in the National Assembly John Mbadi said Nasa members in the affected committees will attend the planned vote-of-no-confidence meetings against the four on Tuesday "to make their voices known about the abuse of Parliament by the executive."
Mr Mbadi said Nasa's main intention will be to preserve the independence of parliament "and not to delve into Jubilee affairs."
NO CONFIDENCE VOTE
"There is no reason to have a vote of no confidence against the members because the president and his deputy don't want them to lead the committees. It is a joke on the independence of parliament and we will defend the institution," Mr Mbadi said.
In the 19-member committees, Jubilee enjoys a majority of 12 members while Nasa has seven. "Despite our numerical disadvantage, we will not just sit there and see Parliament captured by the executive. We want to be on the right side of history. You can give party position but you cannot dictate how members should vote," he said.
President Uhuru Kenyatta and his deputy Mr William Ruto want MPs Alfred Keter (Nandi Hills), Silas Tiren (Moiben), James Gakuya (Embakasi North) and Kangogo Bowen (Marakwet East) removed for going against the party position and heading the committees.