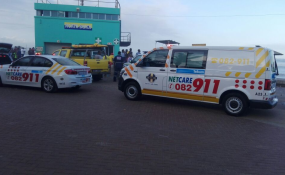 Photo: @Netcare911_sa/Twitter
A seven-year-old girl has died after being washed off the pier by high waves at Durban's North Beach on Sunday afternoon, paramedic services have said.
Rescue Care spokesperson Garrith Jamieson said paramedics were called to the scene.
"Lifeguards had retrieved the girl from the ocean and brought her to the lifeguard tower. Sadly, despite advanced life support efforts, she could not be saved."
Jamieson said police were on scene to investigate.
Police did not immediately comment.
Source: News24