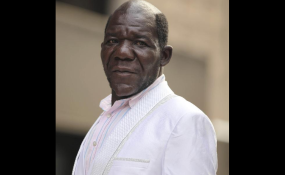 Photo: New Zimbabwe
William Masvinu has filed a police report after he was denied his price for winning the Mr Ugly competition last year.
Masvinu told New Zimbabwe that he has opened a docket against the organiser of the completion, David Machowa, known as Apama in the entertainment circles at Ruwa Police Station.
He was at the Harare magistrate's court where he was attending a court case involving his daughter in-law who is on assault charges.
"I reclaimed the award last year after I lost to Maison Sere in 2016. I walked away with a cow and $500 but I was only given $100 long after I scooped the award. Apama claims that I assaulted him as such I will not get the balance so I will let the police handle it," he said.
The pageant was held at Mutangaz hideout in Ruwa and coincided with a Braai Festival where 14 000kgs of meat was consumed.
Masvinu, however, could not recall the case number.
He, however, expressed discomfort with the way his case was being handled saying he is not aware why Apama has not been arrested to date after he filed a police report earlier this month.
Fanuel Musekiwa was the first runner up and he went home with $200.
Masvinu said the runner up was also given $100 only.
Zimbabwe's ugliest man said he was happy to reclaim the award adding that it was disappointing to discover that the organisers were stingy.
Masvinu has won the award five times.
He said he is worried because the organiser hinted that he will no longer participate.
Wherever he goes, people would want to catch a glimpse of him with some requesting to be photographed with him.
Masvinu even had a grand wedding where his ugliness was paraded in the streets of Harare.