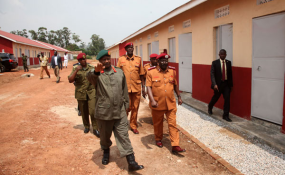 Photo: Daily Monitor
By Misairi Thembo Kahungu
Kampala — Amnesty International, an international human rights body, has warned that President Museveni's vow to hung condemned prisoners is a threat to Uganda's "decades of progress".
While officiating at the pass out ceremony for prison warders and wardresses at Luzira prison on Thursday, President Museveni said he would decide on executing some of the prisoners on death sentence as a deterrent to rampant criminal tendencies.
"I think being too lenient is also becoming a problem because the criminals think they have a right to kill people and then just keep their own heads. So, I think I am going to revise a bit and hung a few," Mr Museveni said.
According to Prisons authorities, there are 278 convicts on death row. Seventy-eight of them have exhausted the court process after their sentences were confirmed by the Supreme Court, hence awaiting execution unless they benefit from presidential pardon under prerogative of mercy.
However, the Amnesty International's Death Penalty Advisor, Mr Oluwatosin Popola, has said if President Museveni signs death warrants for condemned prisoners, the decision would be "misguided".
"President Museveni's threat to resume executions to 'prevent crime' is misguided since there is no credible evidence that the death penalty is a deterrent to crime. Rather, it is the ultimate cruel, inhuman and degrading punishment and a violation of the right to life,"Mr Popola said.
In a press release issued by Amnesty International on Friday, Mr Popola advised that instead Uganda should expedite trying criminal cases that are backlogged in the courts, adding that killing those already found guilty cannot fix criminality.
Mr Popola said because President Museveni has in the past refused to execute prisoners, Uganda is supposed to be joining the global crusade to abolish the death penalty.
"While the backlog of criminal cases in Uganda is something that needs to be addressed and expedited, resorting to the death penalty as some kind of 'quick-fix' is not the answer. But resuming (executions) them now would destroy more than a decade of progress, not to mention the global trend towards abolition. The President must instead lead Uganda to fully abolishing the death penalty, just as 19 other African countries have done," he said.
Uganda last carried out an execution of prisoners on death row in 1999 when Musa Sebirumbi and 27 others were hanged in Luzira Prison.
Sebirumbi was Uganda People's Congress chairman in Luweero during the Obote II government and was hanged for the murder of Edidian Luttamaguzi, a collaborator of Museveni's National Resistance Army rebels during the 1981-86 bush war.
DEATH PENALTY
Currently, a large majority of countries have either abolished or discontinued the practice. The US is the most developed country to use the death penalty.
As of November 2017, of the 195 independent states that are United Nations members, 55 retain it in both law and practice; 29 have abolished it de facto as they have not executed anyone during the last decade or more.
And 103 have abolished it for all crimes, most recently: Madagascar (2015), Fiji (2015), Republic of the Congo (2015), Suriname (2015).