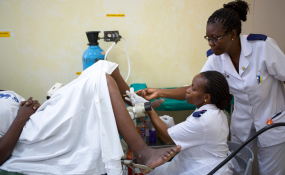 Photo: Gavi, The Vaccine Alliance
By Thecitizen
January is Cervical Cancer Awareness Month. It is a month to commemorate the millions of women who have battled cervical cancer across the world and re-dedicate our collective efforts to end otherwise preventable deaths from the malady.
Opportunity is also taken during the month to enhance existing prevention strategies, and come up with new, more effective measures against the affliction. Over 90 per cent of cervical cancer cases occur in low and middle-income countries, a heavy burden that squarely falls on women in poorer nations.
According to Seed Global Health, Tanzania has among the highest cervical cancer rates in East Africa, with an incidence of 50.9 cases per 100,000 women and a mortality rate of 37.5 per 100,000.
Greater emphasis is still required in educating women on how to avoid situations that expose them to the risk of contracting the Human Papilloma Virus (HPV) that causes cervical cancer.
Last December, Health minister Ummy Mwalimu assured Tanzanians that the government would start to provide vaccination against HPV from April, this year.
She said the vaccine would be administered on girls aged between nine and 13 years with the aim of lowering cervical cancer risk. That is highly commendable on the part of the government.
However, one thing that stands out like a sore thumb is that more education is still needed on some of the issues that are related to HPV transmission. It is a known fact that the virus can be transmitted through sexual intercourse.
Yet, more pressing questions have emerged. For example: can condoms effectively protect women from HPV?
According to some experts, condoms can only reduce HPV infection risks. But the virus can live in the scrotum and genitals long after.
That is why it is still advisable for young people to get vaccinated against HPV well before they become sexually active.
STOP ARBITRARY TRAFFIC FINES
The zeal shown by some traffic police officers in imposing fines for traffic offences - both real and imagined - is astonishing. It is thus not surprising that the Police Force has in recent years been accused of being more interested in collecting money than preventing road accidents.
After being largely silent on the issue since his appointment last July, traffic police commander Fortunatus Muslimu has finally come out in the open and conceded, albeit indirectly, that indeed there is a problem.
Mr Musilimu told The Citizen last week that he expected traffic police officers to use "common sense" and "wisdom" in determining whether or not a traffic offence has been committed or whether a fine should be imposed.
It has probably come to his attention that motorists are being fined for "offences" such as torn seat covers, dents on their vehicles or faded paintwork. Some officers also rush to impose fines for very minor infractions instead of issuing verbal reminders. This is the "common sense" that Mr Musilimu talked about.
While traffic fines, otherwise known as notifications, can be an affective way of making our roads safer, these must be imposed strictly in accordance with the law.