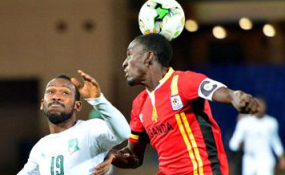 Photo: CAF
Cote d'Ivoire and Uganda settled for a barren draw in their ultimate Group B match on Monday in Marrakech.
The result saw both sides bow out with a point each after losses in their opening two games.
It was an improved performance by the two teams compared to their previous games, but both the cutting edge upfront in game that witnessed few chances.
Despite nothing to play for, the two sides started on a high tempo with Cote d'Ivoire asking the Ugandan backline series of questions in the opening minutes.
As early as the second minute, Ivorian winger Fonsinho, kid brother of Gervinho headed wide from a Bi Kouame N'guessan cross, letting the Cranes off the hook.
The Ivorians were the better possession-wise but rare threatened Uganda goalie Isima Watenga, whose backline weathered the marauding runs of the West Africans.
The Cranes upped their game in the second half but it was still the Ivorians who came closer to breaking the deadlock.
On 55 minutes, Anicet Gbagnon missed a good chance to fire his side into the lead, firing wide after N'guessan had put him through.
On the hour mark, a rare chance for Uganda saw Juma Sadam's grounder spilled by Ivorian goalie Abdoul Karim Cisse.
The remainder of the game was characterised by near misses from the Ivorians whilst the Cranes held on to snatch a vital point.
In Casablanca, Zambia came from behin to hold Namibia to a 1-1 draw in the other Group B.
Zambia finished tops with superior goals despite having seven points as Namibia, with Uganda and Cote d'Ivoire in that order with a point apiece.
Total man of the Match: Bi Kouame N'guessan (Cote d'Ivoire)
Reactions
Bi Kouame N'guessan (Total Man of the Match)
I thank my teammates, technical team and my family for the support which made it possible to win this prize. We are disappointed we couldn't win the last game. It has been a learning curve despite going back with one point. We still have a lot of work to do. Now we know what to do to reach the highest level.
Ibrahim Kamara (Head Coach, Cote d'Ivoire)
This result doesn't do anything to my spirit. We played well and it would have been better to win. We didn't want to leave the tournament with three defeats, and we managed to save our pride.
Our idea was to give hope to Ivorians. We had it all but sadly, we fai;led to convert our chances. We made progress compared to our performance against Zambia in the last match. I believe we can look at the future with hope because we made progress in every game.
Sebastien Desabre (Head Coach, Uganda)
It was very important to leave the competition with a point. Our biggest mistake was the second game against Namibia and it really affected our chances. We played a good game but we failed to score from the two or three chances we created. It was important to finish in third place in the group after realizing we were out of contention. It is big disappointment and but overall we showed great potential.
Our objective was to play a good match and finish ahead of Cote d'Ivoire since it was not possible to finish first or second in the group. We showed positive thinking against a good Ivorian team, and we were equal to the task,