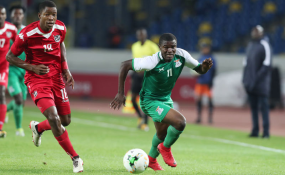 Photo: CAF
Namibia who are making their debut in the tournament had already qualified for the quarter finals after successive victories over Cote d'Ivoire and Uganda in Marrakech.
Ricardo Mannetti's side surprised their Cosafa neighbours when Absalom Imbondi's free kick from a distance made its way to the net on 13 minutes after a counter attacking.
Zambia replied through Kambole's close range effort on 24 minutes after Ernest Mbewe found him with a neat run down the left and setting him up in the middle of the goal.
Mbewe was again involved two minutes after the equalizer when his diagonal pass to Mulenga on the left created space for the Zanaco striker who beat his marker only to see his cross towards Kambole cleared to safety.
Kambole missed a golden opportunity with the goal at his mercy on 28 minutes after Simon Silwimba's long throw bounced in front of him.
NanjebobTheophilus was set free on Namibia's right side of attack going face to face with the keeper but he failed to convert as his effort lacked purpose forcing a clearance from Zambia captain Ziyo Tembo.
The last 20 minutes saw a much explosive game as both teams look for the winner and the busy Kambole was at it again heading Keimuine's defensive flick just wide off Kazapua's goal.
Substitute Friday Samu latched on to a through ball 15 minutes from time but dragged his effort wide as Zambia mountedmore pressure on Namibia. Mbewe who caused problems on the left for Zambia tried his luck from outside the area but could not find the net.
Namibia thought they had won it when Kangau Nenkavu's cross was just about cleared over the goal by Adrian Chama to keep the score level and give Zambia top spot.
Namibia will face host Morocco in Saturday's first quarter final in Casablanca whiles Zambia return to Marrakech to face Sudan.
Match result: Namibia 1, Zambia 1
Total Man of the match: Teberius Ivo Lombard (Namibia)
Reactions
Teberius Ivo Lombard (Total Man of the Match)
I'm very pleased to be named man of the match but it was a team effort and I want to thank my colleagues for a good performance against a difficult opponent.
We're taking this tournament game by game and now the next match is Morocco on Saturday and we will go and prepare for it.
Ricardo Giovanni Mannetti (Head Coach, Namibia)
We're overwhelmed with qualifying to the quarter finals and we showed that we can play two different types of football; with the ball and without the ball.
We will play Morocco here on Saturday. My players were tired of playing in empty stadiums so we will have a full stadium against Morocco.
I have told my players to enjoy the game as I do because we played two difficult games and get the results so today was about going to enjoy in a structured way.
Wedson Witson Nyirenda (Head Coach, Zambia)
We came to this competition with the aim of winning the tournament. We're going to play against Sudan in Marrakech. I think my players underestimated Namibia and they surprised us by scoring first.
The level of the tournament is good because when I was coming here I said Namibia is not a team to be underrated.