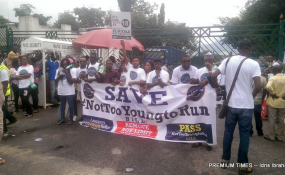 Photo: Premium Times
By Azeezat Adedigba
Over a month after the Speaker of the Kwara State House of Assembly, Ali Ahmad, gave assurance that the 'Not Too Young To Run' bill will be passed by the various state Houses of Assembly before December 25, 2017, a civil rights group said only 12 states have done so.
The bill, which is part of the process by the National Assembly to amend the 1999 Constitution of Nigeria, seeks to reduce the minimum ages for political offices in Nigeria.
In a press statement signed by its media officer, Moshood Isah, the Youth Initiative for Advocacy Growth and Advancement, YIAGA, on Monday gave the progress report on the bill.
The 12 states that have passed the bill are Kwara, Edo, Kastina, Nasarawa, Ekiti, Benue and Yobe. Others are Borno, Adamawa, Delta, Enugu, and Gombe.
Mr. Isah said the age reduction Bill seeks to reduce the age of running for President to 35 and Governor or Senators to 30.
"It is a change from the initial 40 and 35 years limit respectively, which was mandated by the Constitution. The Bill would also pave the way for 25-year olds to legislate in the National and state Assemblies across the country," Mr Isah said.
The Bill needs to be passed by at least 24 state Houses of Assemblly, after which the President has to assent to it before it becomes law.
Premium Times had reported how the convener of the 'Not Too Young To Run' constitutional review meeting in December 2017 , Samson Itodo, said the bill is among the 15 sent to state Houses of Assembly by the National Assembly.
Mr Itodo said it enjoys wide support from Nigerian youth as it seeks to promote inclusion by reducing the age for running for political offices in Nigeria.
"We cannot say a country will develop without including the youth in the political affairs. It is important to engage youth in the political business of the country. So we call on state Houses of Assembly to vote yes to 'Not Too Young To Run' that will give young people the opportunity to contribute to national development," Mr. Itodo said.
According to him, for young people, it is a question of whether our political parties will uphold the principles of democracy, transparency and accountability by ensuring that delegates are not substituted 24 hours before primaries and that young people are given opportunities to buy party nomination forms.
The House of Representatives and the Senate passed the bill in July 2017.