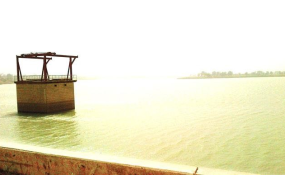 Photo: Daily Trust
Work on the abandoned Sabke Dam, meant to provide irrigation facilities to no fewer than 3,000 farmers in Maiadua Local Government Area, Katsina State, has reached 80 per cent completion stage.
Mr Ayo Obenewo, the site engineer, told the News Agency of Nigeria (NAN) on Monday at Sabke that the project work soon be completed and handed over to the government.
NAN reports that the construction of the dam started in 1996 by the Federal Government but was abandoned.
"We will soon complete this aspect of the project and handover to the government for maximum utilisation."
Obenewo said the project was in three stages comprising construction of pumping station and water treatment plant, canalisation and clearance of irrigation sites, as well as potable water supply.
According to him, the dam will provide 31.6 million cubic litres of water per annum to Daura, Mashi and Dutsi Local Government Areas for domestic use and irrigation..
Malam Nura Baure, the Chairman of the Rice Farmers Association in Daura, commended the Federal Government over the project.
He said that the dam, on completion, would boost the economy and provide employment to the teeming farming youths in the affected areas.
Obenewo said the facility would also ensure food security, as millions of metric tons of rice, wheat, and vegetables would be harvested, when completed. (NAN)