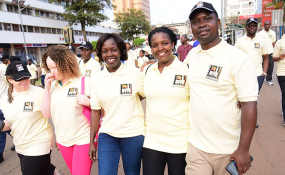 Photo: The Observer
By Yudaya Nangonzi
When Whitney Percy Nakawooya was born in 2015 at Kisenyi health centre IV in Kampala, her parents were filled with joy. She was their first child, despite the fact that she was born with albinism.
Prior to her birth, doctors at Kisenyi had counseled the couple and they were ready for the baby.
"When I was called inside the maternity room to confirm that my wife had given birth to an albino baby, I was not shocked. In my family, we have albinism genes," recalls Herman Kisuule, Nakawooya's father.
He, however, says rumors that his child would be sacrificed by witchdoctors remained an inconvenience from friends and neighbours.
"We overlooked all they said that albinos are sacrificed and raised her like any child. She plays, associates with other children and no one has ever attempted to steal her," he says.
Now aged four and ready to start school this year, Nakawooya cannot wait benefit from funds raised by the Ugandan parliament to support Persons with Albinism (PWAs). Yesterday (January 21) Kisuule and Nakawooya joined hundreds of people to participate in the second parliament fundraising walk aimed at constructing a rehabilitation centre for PWAs.
Flagged off by speaker of parliament Rebecca Kadaga at 7:38am, participants, led by the police band, walked from the parliament south wing parking to Nile Avenue, Buganda road, Kampala road and back to parliament.
The walk, which generated about Shs 75m in cash and pledges, was part of the activities to mark the parliament week which ends on January 25. Kadaga appealed to MPs to have a debate on albinism so that issues that affect them are captured when the House resumes.
"The cause we are supporting is really important, but not sufficiently known. There are a lot of our policies that do not address the issue of albinism. I think that is a lacuna," Kadaga said. "In schools, teacher training institutions and health institutions, no one teaches people on how to manage albinism. The time is now for us to stand up for those who have no voice."
Albinism is a genetic condition that is manifested at birth where a person completely or partially lacks melanin with evidence of pale or ash-grey eyes, no hair and skin colour.
For the future, Kadaga requested the clerk to parliament to ensure that the ministries of Education, Health and Justice that were not part of the charitable walk to participate in the fundraising drive for PWAs.
As part of her pledge last year, Kadaga said the parliamentary commission will this week start interviews that will see at least one person with albinism employed at parliament. Jude Ssebyazi, living with albinism, also the executive director Uganda Albinism Society, called for amendment of the current cancer policy which government is championing to fight skin cancer.
"The cancer policy is discriminatory, bad and worse than Ebola for us with albinism. It does not mention about cancers that attack us and in due course, there are no dermatologists in government health facilities, which leaves many of our colleagues to die in high numbers," Ssebyazi said.
He added that the policy does not provide for procurement of sunscreen as a drug but, rather, a cosmetic. Ssebyazi explained that the sunscreen, applied inform of creams to prevent direct sun onto their skins, is expensive, scarce and only imported. Products that are locally produced under a pilot project need more research to go through the scientific rigor and certification to make them available and affordable.
After the walk, Luweero district Albino Association performed a skit for participants that depicted more challenges albinos encounter in their quest for education, health and employment services.
Elizabeth Kwagala, the general secretary of the association, also an albino, commended people for participating in the fundraising drive before asking government to address the growing trend rampant discrimination.
"People are discriminating against us because of our colour disability. We need big fonts for examinations for albinos in school because of our low vision and children need to be allowed to sit in front while in class," she said.
The Leader of Opposition (LOP) in parliament, Winifred Kiiza, urged Ugandans to treat each other with dignity and desist from discriminating people in terms of race, colour and belonging.
"I do believe that Uganda is a land of freedom just like our national anthem puts it. When we say: 'Oh! Uganda, the land of freedom' and we still discriminate, it defeats the logic behind our national anthem," Kiiza said.
"To all people living with Albinism, I am a Christian and I believe we are all made in the image of God. So, no discrimination should be meted upon anyone."
Last year, the parliament fundraising walk saw Shs 35 million raised for the centre which is expected to cost about Shs 5 billion. Kadaga said once the required funds have been generated, parliament will buy land for construction of a rehabilitation centre for people living with albinism.