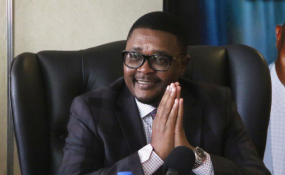 Photo: The Herald
By Mary Taruvinga and Robert Tapfumaneyi
Former foreign affairs minister Walter Mzembi told a Harare court Monday that he intends to contest his arrest and placement on remand, saying the State has no case against him..
Mzembi, who recently indicated that he was taking a break from politics, was hauled before the courts for allegedly donating State property to churches.
Prosecutors say he donated State television sets to Walter Magaya's Prophetic Healing and Deliverance (PHD) ministry, Emmanuel Makandiwa's United Family International Church (UFIC) and also to the Zion Christian Church (ZCC).
However, through his lawyer Job Sikhala, the ex-minister insists that the State has no a case against him.
Sikhala said at that particular time, his client was promoting a new concept of religious tourism and gave the equipment away as part of that government programme.
He is expected back in court on February 27 pending his trial.
Mzembi allegedly committed the offence in 2010 when he was Tourism and Hospitality minister.
He was later handed the foreign affairs portfolio, running it briefly before last November's change of government.
The former ruling Zanu PF party politician was one of a number of ministers arrested on corruption charges after President Robert Mugabe was toppled by a military revolt.
Mzembi was a loyalist of the fallen leader who once described him as his best minister.
Last week he indicated that he was taking a sabbatical from politics and appealed to the new Emmerson Mnangagwa government for support in his business ventures.
In a statement, Mzembi, who was linked to the G40 Zanu PF faction, said he would however remain loyal to the party and Mnangagwa.
He had been expelled from the ruling party and recalled as one of its members of parliament.
"Whilst expulsion is an administrative exercise in pursuit of reasserting discipline in the party, my heart and soul remain embedded in the ideals, principles and ideological construct of Zanu PF," he said.
"I will serve its interests in other roles, most of all as a private citizen going forward into the future. This simultaneously signals my break with representative politics and my re-entry into Corporate life."