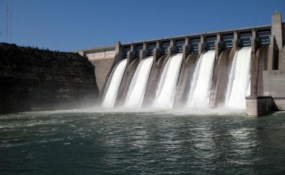 Photo: Daily News
By Katare Mbashiru
THE construction of the much awaited Kidunda Dam water project in Morogoro Region, targeting to improve water supply in Dar es Salaam and Coast regions is expected to take off in July 2018, if the ongoing funding negotiations between the Dar es Salaam Water and Sewerage Authority (DAWASA) and the National Social Security Fund (NSSF), materialise.
The DAWASA Acting Chief Executive Officer (CEO), Engineer Romanus Mwang'ingo, said at the weekend that the authority was in talks with NSSF to seal a deal, under which it could finance the US Dollars 215 million project.
DAWASA has already dished out 7bn/- as compensation to more than 2,000 residents in eight villages in Morogoro Rural District to pave the way for construction of Kidunda Dam.
"We want to have the Nyerere-like Kigamboni Bridge project that was funded by NSSF, and we believe that it will help people in the two regions to be liberated from frequent water blues during the drought season.
According to him, apart from providing adequate water supply, the dam would also generate electricity, and that upon completion it would be able to supply water for not less than 30 years.
Apart from the multimillion dollars Kidunda dam project, Kimbiji and Mpera boreholes in Kigamboni, are being considered as new sources of water for Dar es Salaam and some parts of Coast Region, to boost supply from Ruvu River which currently provides the precious liquid.
Eng Mwang'ingo was briefing members of the parliamentary Committee on Water, Livestock and Agriculture on the various grand projects currently being undertaken by the water watchdog for efficient supply of water in Dar es Salaam and Coast regions.
On Saturday, parliamentarians spent a better part of the day on a marathon trip to inspect the Salasala-based water pumping centre and a water tank at the area as well as the Makongo and Changanyikeni- based water pumps installation, among others. The MPs also toured and inspected similar projects in Mbezi and Kimara.
The lawmakers furthermore inspected the Ruvu Juu water turbines and the water treatment process, on which they were briefed by engineers. During the trip, they were flanked by DAWASA staff led by Engineer Mwang'ingo as well as those of the Dar es Salaam Water and Sewerage Corporation (DAWASCO) led by Eng Cyprian Luhemeja, the CEO.
DAWASA is currently undertaking water projects amounting to US Dollars 32.93 million, that upon completion by the end of this month, if all goes well, would enable over 500,000 residents of Dar es Salaam and Coast regions to have access to water services.
The 72bn/- project will, among other things, put up nine big water tanks that have a capacity of storing between 3.0 and 6.0 million litres of water as well as putting up other four centres of pumping water.
Areas lined up for benefitting from the project include Salasala, Bunju, Wazo, Makongo, Changanyikeni, Bagamoyo, Mpiji, Zinga, Kiromo, Kitopeni, Ukuni, Kerege, Buma, Mataya and the special Export Processing Zones Authority (EPZA), which are receiving services from Ruvu Chini water station.
Others are Mbezi Luisi, Kiluvya, Kibamba, Mbezi, Msakuzi, Makabe, Malamba Mawili and Msigani. These areas receive water from Ruvu Juu water station that was inaugurated by President John Magufuli on June 21, last year.
The chairperson of the parliamentary committee, Mr Emmanuel Papian, commended DAWASA for the implementation of the projects but was quick to direct the contractor to make sure that the projects are accomplished on time.