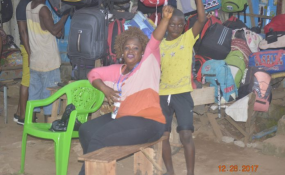 Photo: Liberian Observer
Monrovia — After waiting for more than 12 years, women partisans of the Coalition for Democratic Change (CDC) yesterday, Monday, January 22, jubilantly expressed their joy as their standard bearer was sworn in as the next President of Liberia, succeeding Madam Ellen Johnson Sirleaf.
Though the colorful event was held at the Samuel K. Doe Sports Complex in Paynesville, the headquarters of the CDC was also a spectacular scene with live musical extravaganza, cultural dance and other performances.
Dressed in their regular blue dominant attires, the women said they were happy for what they termed as "their own" has become the President of Liberia. However, they warned the President to do away with corrupt people, who are visibly around him.
"We love him; this is why we have been with him from 2005. He needs to shine his eye well, well," Siah Williams, said.
"Those people who have been accused of corruption should not be given job in his government. It is not about us now; we are old but our children need to live better lives, too, something we did not experience during our young days."
For Annie Wantu, another woman said they are going to hold every word and every promise that the President made to them throughout the campaign and even at the inaugural program.
"We are waiting to see the good things he promised us. Our children's future is our interest. We have been suffering for too long. Our children need to be empowered through skills training."
Gbill Allison said: "I am happy that George Weah from my county has becomes President of Liberia. He will help people from the southeast get good roads, good schools and good hospital."
She stated that people of the southeast have suffered for too long and now that their son was President, they are sure that their region will see development during his reign.
As she expressed her happiness, Korpo Kamara, stated that she wants President Weah to play serious role in the CDC-led administration.
Kamara added: "Young people of this country need to be part of the rebuilding of this country under this regime. This is our time and it is my pray that our President will not leave us the young out."