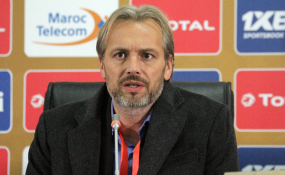 Photo: Daily Monitor
By Andrew Mwanguhya
Kampala — The only African Nations Championship (Chan) edition worse than Uganda's just prematurely ended one in Marrakech, Morocco is Sudan 2011.
Then, Uganda returned only one goal - scored by Sadam Juma in the 2-1 defeat to Gabon, and were generous enough to ship in five as they lost all three group matches.
By virtual of not picking even a point, the Cranes debut at the home-based players' tournament still ranks as the worst.
Uganda did go on to improve in the next edition in South Africa 2014, claiming what remains their only victory in 12 matches over four championships when Yunus Ssentamu grabbed a brace in the 2-1 victory over Burkina Faso.
They also reduced the deficit in conceded goals from the previous edition by one.
On to Rwanda 2016 and everyone expected a country on the back of back-to-back finals to go one step ahead this time and progress from the group.
A 2-2 draw with Mali was the only positive they could return to finish third in the group, the same position achieved in South Africa and Morocco. They scored thrice in Rubavu and shipped in four.
One would have expected the trend in Marrakech, Morocco to change for the better.
Not because new coach Sébastien Desabre was ready for it, but because Uganda were at least - alongside fellow poor tourists Ivory Coast - the most experienced having made the most appearances (four) at this year's edition.
Work cut out
The work is now cut out for the Frenchman, who has a clear trail of fails over the now last four editions.
The malaise is clear. Uganda cannot seem to muster how to put that ball across the goal-line, nor can they seem to limit to the number of flirtations they can permit in front of their goal keeper.
"We created chances but never utilized them," said Sébastien after they achieved in one area and floundered in the other as Uganda drew goalless with Ivory Coast in Group B and the Cranes final game in Morocco on Monday night. "My boys are learning the style of play we need to display. Such competitions are good for the players. We shall not be the same after this tournament."
The positive style of play is something Ugandans will welcome, but it will have to come with results over time.
Finishing touch
First, Sébastien - who is expected to meet Farouk Miya in Belgium and Kizito Luwagga in Romania later in the week - has to work with local coaches to see how they can polish on creativity and finishing.
With last season's top scorer with 21 goals Geoffrey Sserunkuma changing address to Buildcon in Zambia, the burden was on Derrick Nsibambi, Shaban Muhammad Shaban (limited by injury) and Nelson Senkatuka. Only Nsibambi returned one, crafted by Milton Karisa.
Perhaps this could also be traced in the league back home, where Karisa and Hood Kawesa, who has since also moved to Zambia, are leading with only seven goals apiece after 15 matches. That's an average of at least a goal every two matches. Hardly neat.
"Fifa dates in March will help me to continue evaluating the players including the foreign based," said Mr Sébastien.
Uganda are next in competitive action in September with a home fixture against Tanzania when the 2019 Africa Cup of Nations qualification resumes
Group B - CHAN Standings
P W D L F A Pts
Zambia 3 2 1 0 6 2 7
Namibia 3 2 1 0 3 1 7
Uganda 3 0 1 2 1 4 1
I. Coast 3 0 1 2 0 3 1