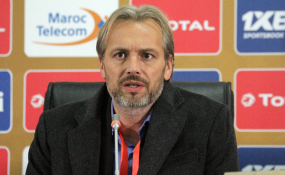 Photo: Daily Monitor
By Andrew Mwanguhya
Kampala — Of course the 2018 African Nations Championship (Chan) came too early for French coach Sébastien Desabre, who admitted as much at his unveiling on December 29 last year.
No wonder he addressed the media just a few minutes after arriving from Cairo Egypt, where two days earlier Sébastien had led his then team Ismaily to a 5-1 victory over El Raja.
New territory
Soon after his address at Fufa House, where the federation CEO Edgar Watson handed the Frenchman his Cranes a jersey, he was driven to Namboole to watch the team train under his new assistants Matia Lule and Fred Kajoba.
With Chan kicking off just 15 days later in Morocco, and this being Sébastien's first job as national team coach, no one was really going to judge him on Uganda's performance up north.
Yet, having arrived in Africa in 2010 and coached clubs in Angola, Ivory Coast, Tunisia, Algeria, Morocco and Algeria, inexperience in African football was the last thing Sébastien was going to be accused of, this being his first national team notwithstanding.
Brutal welcome
Of course he had just a few days learning the players, and two friendly matches to see them in game situation before arriving to the Chan fire lit by Zambia, and then Namibia.
Ivory Coast were the final Group B opponents last night. The Cranes went on to draw 1-1 with Guinea and lose 1-0 to Congo in the two friendlies before falling into a Zambian ambush 3-1 and Namibia 1-0 at Chan.
The first two results saw Uganda crush out of the tournament for the fourth successive time, leaving Sebastien pondering how to get on from here.
One thing for sure is that while he promised to try and get out of the group stage, he did not swear by it, saying "we will work very hard to do well in the competition."
Well, their best was not enough; although it did show glimpses of Sebastien's intended style of play - allowing his players to have a little more relationship with the ball.
But with the Cranes getting to one of the first flights out of Morocco today, the honeymoon for them and Sebastien also seems equally over.
Onwards, upwards
The Frenchman has already confirmed to the Daily Monitor that he will be going to Europe to have a word with Kizito Luwagga (Romania) and Farouk Miya (Belgium), Uganda's creative players, after Morocco.
In between now and September Fufa will line up some friendlies to help Sebastien get more to grips with his players and how they can fit into his attacking philosophy.
The first real game, where he will henceforth start being judged by results comes in September when the 2019 Africa Cup of Nations qualifiers resume at home to Tanzania.
Uganda, who top their group after one match, will again be in action on October 10 and 13 with a back-to-back clashes against Lesotho before hosting Cape Verde and ending the qualification campaign away to Tanzania next year.
The daring Mubiru, perhaps the fastest among the 45 drivers registered for this event, bar three-time national champion Jas Mangat, won the Kabale Rally before failing to finish twice in Kayunga and Fort Portal Rally.
He finished third in Mbarara and fourth among nationals during Pearl Rally.
"We will give it our best like I have always done. Let's all hope for the best but with rally, you cannot be sure about the behavior of the car," Mubiru noted.
For Ssebuguzi, victory in Kayunga, two runners-up finishes, a fourth place in Hoima to go with two failures to finish in Fort Portal and the ARC round held here have kept him in the hunt for a fourth title.
Outgoing national champion Mangat will give the perfect slideshow having chosen to race in Masaka. He only raced in the season opener.
2019 AFRICA CUP OF NATIONS QUALIFICATION
SEPTEMBER 7: Uganda vs. Tanzania
OCTOBER 10: Uganda vs. Lesotho
OCTOBER 13: Lesotho vs. Uganda
NOVEMBER 16: Uganda vs. Cape Verde
MARCH 22, 2019: Tanzania vs. Uganda